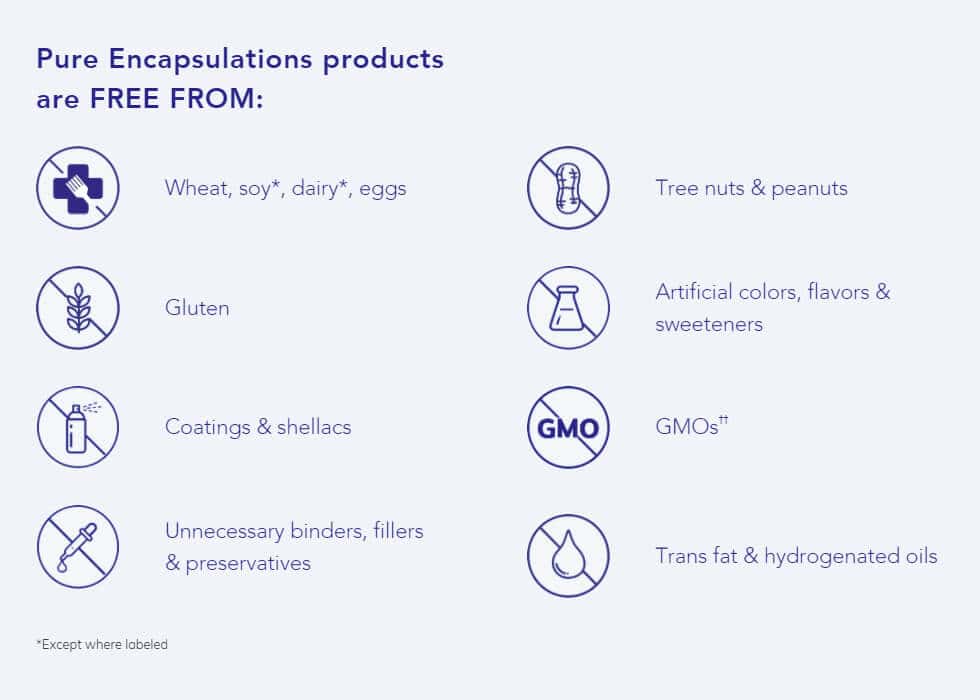 What Is PureGenomics B-Complex?
Comprehensive B vitamin supplement
Provides activated B vitamins, including pyridoxal-5-phosphate, riboflavin-5-phosphate, enhanced-retention thiamin derivative benfotiamine, and 800 mcg of Metafolin® L-5-methyltetrahydrofolate (L-5-MTHF), the naturally occurring, universally metabolized form of folate
Offers vitamin B12 in unique blend of adenosylcobalamin and hydroxycobalamin
Made with hypoallergenic, vegan ingredients
PureGenomics B-Complex is a unique B-complex vitamin by Pure Encapsulations that targets common genetic polymorphisms*
PureGenomics B-Complex is designed to address the nutrient requirements of common genetic variations in the methylation pathway with a unique blend of B vitamins in highly researched and activated forms. Methylation is a key regulator of genetic expression and cellular function. Healthy methylation is vital for cellular health, DNA synthesis, hormone and neurotransmitter production, and energy metabolism. Optimal levels of B vitamins have been associated with cellular, cardiovascular, neurological and psychological health. B vitamins are essential to basal mitochondrial function as metabolic coenzymes, playing a key role in energy production and nutrient metabolism. Folate is offered in this formula as Metafolin® 5-methyltetrahydrofolate (5-MTHF), the universally metabolized and biologically active form of folate, providing support for individuals with genetic variations in the MTHFR gene. Vitamin B12 is offered as a combination of hydroxycobalamin and adenosylcobalamin. Hydroxycobalamin is a precursor form of vitamin B12 converted in the body to both methylcobalamin and adenosylcobalamin. Adenosylcobalamin is an activated form stored in the mitochondria of cellular tissues. It is a key cofactor in carbohydrate metabolism and healthy synthesis of neuronal myelin. Benfotiamine is a lipid-soluble, enhanced-retention thiamin derivative targeting glucose metabolism to support vascular and neuronal health.*
Metafolin® is a registered Trademark of Merck KGaA, Darmstadt, Germany.
BenfoPure® is a registered trademark of Hamari Chemicals USA, Inc.