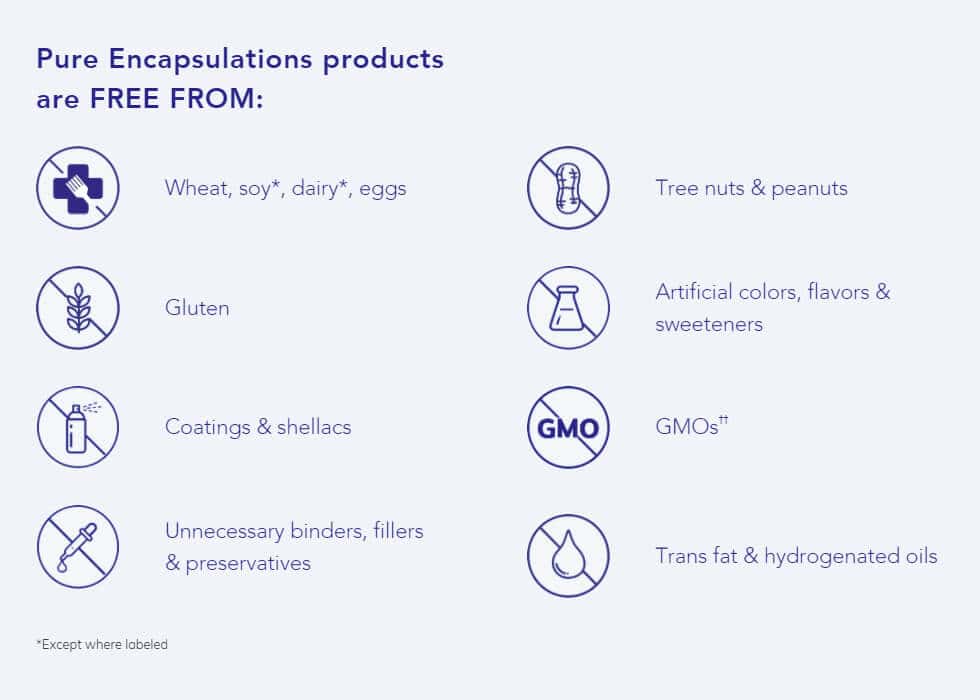 Suggested Use: Vanilla Bean flavor: 34 g (1 scoop) Chocolate flavor: 37 g (1 scoop) servings per container: 20
PureLean™ – PureLean provides the necessary ingredients for a proper meal replacement. Including activated vitamins, minerals, omega-3 fatty acids and superfruit antioxidants. PureLean tastes great and has no artificial ingredients, and provides assistance for those looking for healthy weight loss management tools. Available in three different flavors, vanilla, chocolate and vanilla sweetened with stevia. Works well with PureLean Fiber and other PureLean products by Pure Encapsulations.
PureLean™ Features
PureLean™ Protein Blend
• 15 grams vegetarian protein from a unique blend of rice, pea, hemp and chia
• 250 milligrams omega-3 fatty acids from chia and hemp per serving
• Promotes satiety and healthy body composition with protein.* A moderate protein diet (40% carbohydrates, 30% protein, 30% fat) was associated with improved lean body composition, fewer reported cravings and increased diet compliance in a recent Journal of Nutrition study.
• Supports healthy triglyceride metabolism with protein and omega-3 fatty acids* Multivitamin/mineral Complex
• Wide range of vitamins and minerals for comprehensive support
• Maintains healthy metabolism with B vitamins, zinc and chromium*
• Enhances healthy weight management, body composition and bone health with calcium, vitamin D and magnesium* Antioxidant Synergists
• Vitamin A, vitamin C, vitamin E, selenium and zinc
• Superfruit antioxidant blend of coffee berry, acerola, camu camu, quercetin, acai and mangosteen
What Is The Source?
Pea protein isolate, rice protein concentrate, hemp protein concentrate and white chia seed meal are derived from Pisum sativum, Oryza sativa, Cannabis sativa and Salvia hispanica respectively and naturally contain protein, calcium, phosphorus, magnesium, potassium and iron. Pectin is derived from apple. Vitamin A, thiamine (B1), riboflavin (B2), niacinamide, pyridoxine HCl (B6), folic acid, biotin, pantothenic acid (B5) and vitamin K1 are synthetically derived. Vitamin C and methylcobalamin (B12) are derived from corn dextrose fermentation. d-Alpha tocopherol acetate (vitamin E) is derived from soybean oil. Vitamin D3 is derived from lanolin. Calcium, magnesium, zinc, iodine, selenium and chromium are derived from elemental ore. Superfruit antioxidant blend is derived from coffee berry, acerola, camu camu, quercetin, açai and mangosteen.
Recommendations
Pure Encapsulations recommends 1–2 servings per day. Add 1 serving to 8 oz of water, milk or juice. Blend with fresh or frozen fruit pieces if desired, Shake, stir, or blend until smooth.
Are There Any Potential Side Effects Or Precautions?
If pregnant or lactating, consult your physician before taking this product. At this time, there are no known side effects or precautions. Consult your physician for more information.
Are There Any Potential Drug Interactions?
At this time, there are no known adverse reactions when taken in conjunction with medications. Consult your physician for more information.
For educational purposes only. Consult your physician for any health problems. *These statements have not been evaluated by the Food & Drug Administration. This product is not intended to diagnose, treat, cure or prevent any disease.
**Warning: Very low calorie protein diets (below 400 calories per day) may cause serious illness or death.