Lowered Fibrinogen- I am Thrilled!
I tried several supplements attempting to lower fibrinogen below 300. Nothing budged it, including another version of nattokinase. Six weeks after starting Cardiokinase one softgel four times a day, fibrinogen had lowered from 321 to 264. I am thrilled!
My husband has been using Pure Prescriptions Cardiokinase for several years now, and it's amazing. I first heard about this product on a health blog about the danger of stopping blood thinners too quickly. I had been frantically searching for something natural that he could take to help prevent blood clots since he'd already two heart attacks— the second one being massive. He was originally told he'd be on blood thinners for life after that, then after one year they refused to renew it with no explanation. After reading about this product I immediately ordered it, and he began taking it while weaning off his prescription. That was over six years ago, and he's been taking it ever since and doing well. No side effects whatsoever— I would highly recommend this product!
I Love Cardiokinase and view it as better than any other brands
I started using the product after doctor said my blood pressure is too high, and I need blood thinners. Since when for about three years already my blood pressure noticeably went down.
About Cardiokinase™ (Nattokinase)
Award Winning Cardiokinase is the only nattokinase that is endorsed by Dr. Sumi. Dr. Sumi is the discoverer, developer and researcher of nattokinase. Cardiokinase is the only form of Nattokinase to meet Dr. Sumi's standards of both safety and effectiveness. Cardiokinase contains higher activity than all other nattokinase strains and is the absolute strongest nattokinase available.
Pure Prescriptions is the exclusive license holder in North America and was granted a Product Merit Award by Nutrition Business Journal.
Cardiokinase™ Vs. Other Nattokinase Brands
Cardiokinase™ contains a new kind of Nattokinase even more potent than the original (NSK-SD®). Cardiokinase incorporates a new type known as "HTNK-J". This type of nattokinase produces higher activity than other brands of nattokinase that you see on the market. Cardiokinase is the most potent and safest nattokinase available. If it's not Cardiokinase™ brand Nattokinase, you're not getting the best.
What Is Nattokinase?
Nattokinase (pronounced nat-oh-KY-nase), is an enzyme that is extracted from the fermented soy food called "natto." Natto is regarded by the Japanese as very healthy food and has been consumed there for centuries. Nattokinase, however, has only recently been discovered, isolated and investigated.
In 1980, Dr. Hioryuki Sumi discovered that "natto," possesses previously unidentified thrombolytic activity. He referred to the isolated enzyme as nattokinase. Although nattokinase is not new to the marketplace, there is a new strain that exhibits some exceptional improvements over the original. It should be appropriate then that Dr. Sumi himself set the new bar with the scientific development of this new substance.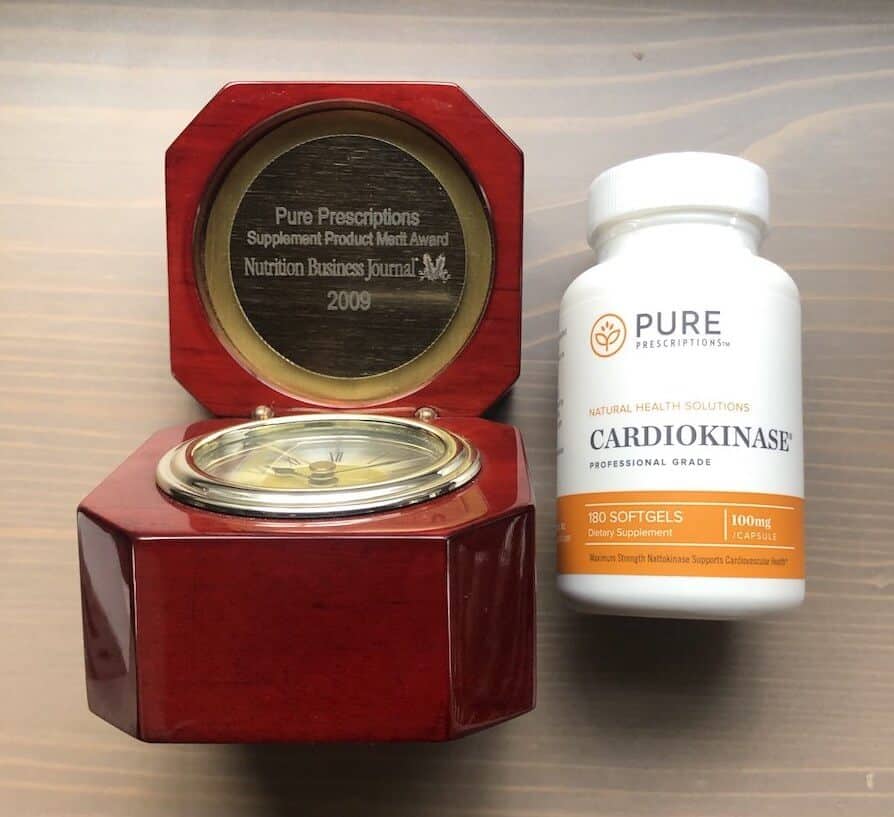 Cardiokinase™ contains the strongest strain of nattokinase and confers several important cardiovascular health benefits:
Improves Heart Health & Overall Circulation*
Naturally Dissolves Harmful Blood Clots*
Promotes Positive Effects On Blood Pressure Levels*
Decreases Sore, Aching Muscles*
100% All-Natural & Proven Safe*
Who Can Use Cardiokinase?
Cardiokinase™ is great for seniors, athletes and virtually anyone!
Studies have shown that the Nattokinase in Cardiokinase is safe for the vast majority of people. This comes as no surprise to researchers, given that nattokinase is a natural product and that the soy food called natto has been eaten safely in Japan for about 1,000 years.
Cardiokinase contains an unprecedented high activity of nattokinase, more than 200% the effectiveness of other nattokinase products. Simply put, if it's not Cardiokinase, you're not getting the best.
So when it's difficult to tell the difference between one nattokinase and another, trust the one that's been tested, proven and is more effective.