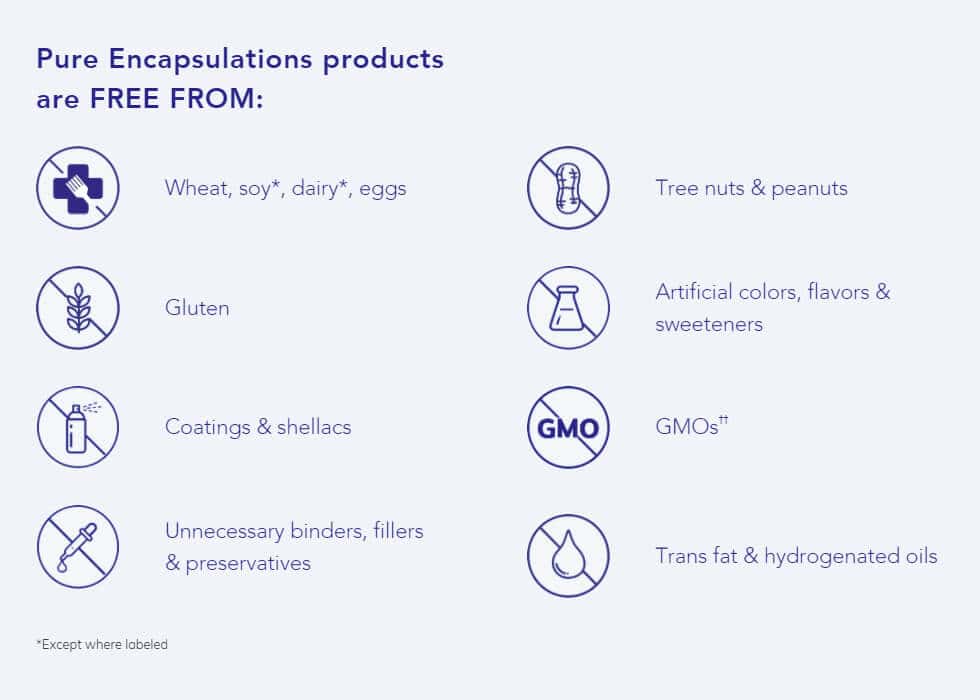 Allergies Making You Miserable?
Aller-Essentials by Pure Encapsulations was designed for those suffering from seasonal allergies and occasional allergies due to environmental changes. Sometimes our bodies respond to our environment by triggering a histamine release, thus signalling our immune system to attack. Aller-Essentials includes ingredients known to science to help adjust this reaction, thus offering relief from allergy sufferers. Other ingredients in this formula help with nasal linings, antioxidant protection and immune system strengthening. Questions on this or any of our other products? Please call us today to speak with a qualified health professional, we are happy to help.
How Does It Work?
Aller-Essentials is designed to maintain healthy immune function in response to the environment, including healthy mast cell function, nasal function, histamine release, cytokine balance and immune cell activity.*
Uses For Aller-Essentials
Immune Response: In a randomized double blind trial involving 75 individuals, Tinospora cordifolia provided significant support for a healthy immune response by maintaining normal nasal function as well as healthy neutrophil and eiosinophil activity. Beta-1,3/1,6-glucan, a natural polysaccharide extracted from the cell wall of Saccharomyces cerevisiae, has demonstrated the potential to support overall immunity and to maintain healthy cytokine balance. A randomized double blind, placebo-controlled trial involving apple polyphenols reveals support for maintaining a healthy nasal lining and nasal function. Quercetin, hesperidin and vitamin C provide additional support for stabilizing mast cells and maintaining healthy histamine production. Nettle leaf offers a history of clinical and traditional use for maintaining healthy immune response in response to environmental triggers.*
What Is The Source?
Vitamin C is derived from corn dextrose fermentation. Tinospora cordifolia extract is derived from roots and stem and standardized to contain 2.5% bitter principles. Quercetin is derived from Japanese pagoda tree (Sophora Japonica) flower buds. Hesperidin methyl chalcone is derived from sweet orange. Nettle extract is derived from Urtica dioica L. leaf and standardized to contain 1% silica. Apple extract is derived from Malus pumila mill whole fruit and standardized to contain 75% polyphenols. Beta-glucan† is derived from Saccharomyces cerevisiae (Baker's yeast) and standardized to contain 60% beta 1,3/1,6 glucan. Maltodextrin is derived from corn. Ascorbyl palmitate is derived from corn dextrose fermentation and palm oil. †
Are There Any Potential Side Effects Or Precautions?
Beta-glucan, hesperidin and vitamin C have been associated with GI upset. Vitamin C may be contraindicated for people with a history of oxalate kidney stones. In one clinical trial tinospora cordifolia was reported to cause headache in a small number of individuals. Beta-glucan can also cause headache or itching in sensitive individuals. Beta-glucan is contra-indicated in critically ill intensive care unit (ICU) patients. If pregnant or lactating, consult your physician before taking this product.
Are There Any Potential Drug Interactions?
Tinospora and quercetin are contra-indicated with immune suppressive medications. Beta-glucan is contra-indicated for individuals taking monoamine oxidase inhibitor medications (MAOIs). Individuals taking Tinospora with hypoglycemic medications may require monitoring. Quercetin may be contra-indicated with certain antibiotics. Consult your physician for more information.