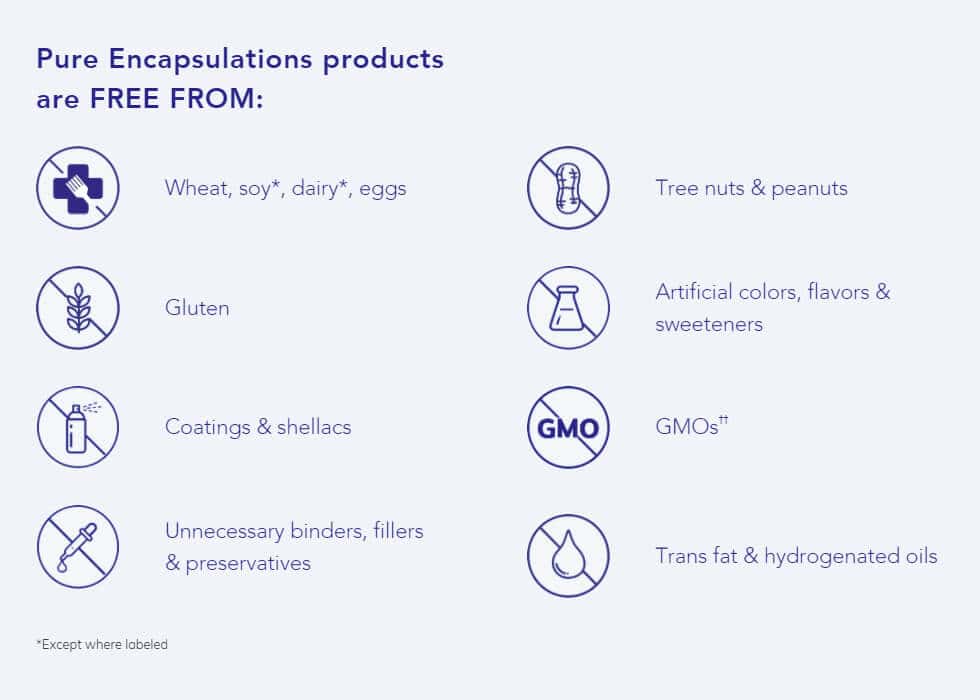 Are You a Woman Over 40 Looking For The Perfect MultiVitamin?
Look no further, because you've found the best and most comprehensive (everything you'll need) vitamins for your health plus convenience. This convenient daily vitamin pack from Pure Encapsulations takes the guesswork out of choosing the right dietary supplements. Designed for women over 40, daily packets includes 9 pills in a 30-day supply box.
Each individual packet includes women's multivitamin, coenzyme q10 (CoQ10), red wine and pomegranate extract for heart health, rhodiola rosea extract and lemon balm to reduce stress, fish oil concentrate for omega-3's, Vitamin D3, Lutein and Zeaxanthin for your eyes, calcium (citrate) and Acai antioxidant support.
This unique combination of vitamin supplements truly supports a woman's daily needs for dietary support past the age of 40.
What Is Women's Pure Pack?
A multivitamin and mineral complex with added calcium and vitamin D3
Provides 50% daily calcium recommendation*
Convenient daily packet for easy dispensing
Women's Pure Packs By Pure Encapsulations:
Now With Metafolin® L-5-MTHF
√ Supports bone, cardiovascular, macular, breast and emotional health*
√ For women over 40
Vitamin/Mineral Distinctions:
√ Vitamins and minerals in highly bioavailable forms
√ Activated B vitamins, including Metafolin® L-5-methyltetrahydrofolate (L-5-MTHF), the naturally occurring, universally metabolized form of folate
√ 500 mg calcium and 1,500 IU vitamin D3 to support healthy bone*
Women's Pure Pack Special Features:
√ Maintains healthy cardiovascular function with omega-3 fatty acids, CoQ10, and polyphenols from açai, cranberry, pomegranate, red wine concentrate and grape seed extract*
√ Supports breast cell health with HMRlignan™, calcium-d-glucarate, green tea and curcumin*
√ Helps moderate occasional stress with the adaptogenic properties of rhodiola and lemon balm*
√ Enhances the integrity of the macula and retina with lutein, zeaxanthin and nutrient cofactors*
√ Convenient, once-daily packet
Dosage & Recommendations:
Take 1 packet daily (9 capsules), with meals.
Take with food. If you have liver problems, consult your health care practitioner before use. Vitamin K may be contraindicated with Coumadin (Warfarin). If you are pregnant or lactating, have any health condition or are taking any medication, particularly blood thinning medication, consult your health professional before use.