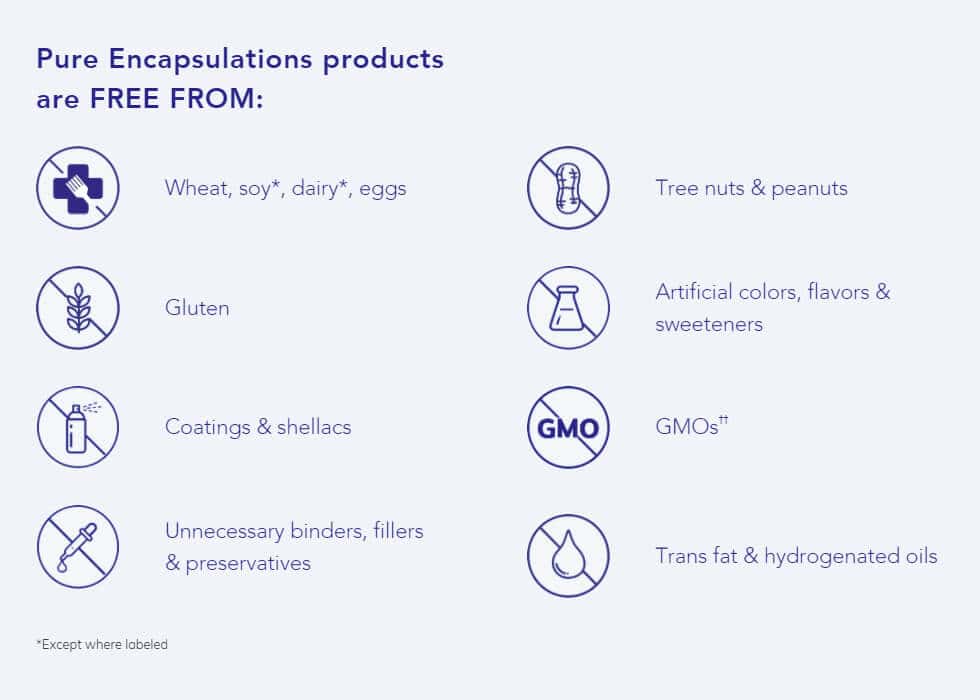 What Is PureDefense w/NAC?
PureDefense with NAC by Pure Encapsulations supplies the necessary support to ensure a healthy defense system and immune response. Natural killer cells or NK cells, are the first responders for our immune system, strengthening these cells, can help with eradicating foreign pathogens. PureDefense provides support to our T cells and B cells, with EpiCor, a powerful product derived from fermenting yeast. N-Acetyl-l-cysteine, supports the lung tissue and respiratory system, by safeguarding lung tissue and providing antioxidant protection. Zinc, quercetin and elderberry are all proven immune boosters and enhance existing immune cell activities. Perfect formula for the winter months for long term support, as well as occasional immune boosting.
Immune Defense:
In one cellular study, EpiCor® promoted natural killer cell activation, as well as that of B cells and T cells. In two randomized, double blind, placebo-controlled trials, EpiCor provided statistically significant support for upper respiratory tract health and overall immune health. A separate open label, in-house trial indicated a strong potential for EpiCor supplementation to enhance secretory IgA levels after 30 days. These various actions demonstrate the ability of EpiCor® to address both innate and adaptive immune responses. NAC promotes endogenous glutathione production for antioxidant protection and provides lung defense mechanisms for healthy respiratory function. In a randomized double blind trial involving mostly older individuals, NAC supported comfort, nasal function and respiratory health through the winter months. Vitamin C, vitamin D and zinc provide nutritional immune support, enhancing healthy immune cell proliferation, activation and function. Vitamin D receptors have been found on a number of immune cell types, and it is believed to play an important role in seasonal immune health. Vitamin C and the bioflavonoid quercetin also help boost immune defense by supporting healthy antioxidant enzyme function.
Immune Support Advances*
By Mark Swanson, ND
Several studies this year highlight new approaches for environmental immune support. Optimal immune function often requires a multi-modality approach, typically involving a combination of nutrients and herbal ingredients. Emerging research suggests that a Saccharomyces cerevisiae fermentate and specialized probiotic strains may offer additional immune support.*
EpiCor® is a fermentate of Saccharomyces cerevisiae containing various bioactive metabolites. Research indicates that it enhances immune cell production and supports innate and adaptive immune responses. In the upper respiratory tract, EpiCor® promotes natural killer cell activation, B-cell and T-cell function, and secretory IgA.1 A recent 12 week randomized double blind, placebo-controlled trial suggests that EpiCor® may also help maintain a healthy immune response to environmental factors. In this trial, participants were given 500 mg EpiCor® daily. Results indicate statistically significant support for nasal function and comfort, as well as positive but non-significant support for ocular health. These results are generally attributed to its ability to promote healthy salivary IgA, eosinophil and lymphocyte production and function.*2
A recent review of 12 trials suggests that probiotics also offer unique support for maintaining healthy immune function in response to environmental triggers.3 Healthy microflora balance has been associated with immune response. Research on the novel probiotic Bifidobacterium longum BB536 suggests that supplementation helps maintain a normal microflora balance in sensitive individuals.4 In a two-way crossover study, twice daily administration of BB536 maintained ocular and nasal function as well as overall comfort.5 A 13 week randomized, double blind, placebo-controlled trial suggests that it also promotes healthy immune response, inflammatory balance, cytokine production and IgE function.6*
First line support is based on the ability to maintain healthy immune function and comfort during occasional environmental exposures. New research advances, including studies on Epicor® and Bifidobacterium longum BB536, offer unique approaches that can easily be combined with other complimentary supplements for the widest spectrum of support.*
References:
Moyad MA, Robinson LE, Zawada ET, et al. Effects of a modified yeast supplement on cold/flu symptoms. Urol Nurs. 2008;28:50-55 Moyad, MA, Robinson LE, Bubak, ME, et al. Immunogenic yeast-based fermentation product reduces allergic rhinitis-induced nasal congestion: a randomized, double blind, placebo-controlled trial. Advances in Therapy. Int. Journal of Drug, Device & Diagnosis Research. 2009;26(8)795-804. Vliagoftis H, Kouranos VD, Betsi GI, Falagas ME. Probiotics for the treatment of allergic rhinitis and asthma: systematic review of randomized controlled trials. Ann Allergy Asthma Immunol. 2008 Dec; 101(6):570-9. Odamaki T, Xiao JZ, Iwabuchi N, et al. Fluctuation of fecal microbiota in individuals with Japanese cedar pollinosis during the pollen season and influence of probiotic intake. J Investig Allergol Clin Immunol. 2007;17(2):92-100.bacterium Xiao JZ, Kondo S, Yanagisawa N, et al. Clinical efficacy of probiotic Bifidobacterium longum for the treatment of symptoms of Japanese cedar pollen allergy in subjects evaluated in an environmental exposure unit. Allergol Int. 2007 Mar;56(1):67-75. Xiao JZ, Kondo S, Yanagisawa N, et al. Probiotics in the treatment of Japanese cedar pollinosis: a double-blind placebo-controlled trial. Clin Exp Allergy. 2006 Nov;36(11):1425-35.
For educational purposes only. Consult your physician for any health problems.
*These statements have not been evaluated by the Food and Drug Administration. These products are not intended to diagnose, treat, cure or prevent any disease.