Energy, Activate!
Features full spectrum of B vitamins, including all the necessary B vitamins in their activated form, which allows for superior absorption by the body.
Energy Boost
I teach elementary school, and I have started hitting a slump in the afternoons and feel like a need a nap. But since I've started taking an extra B-complex capsule at lunchtime, I have the energy I need to get through the afternoon. Thank you Pure Prescriptions for making an excellent product!
I have been using another brand of B complex for years not noticing much difference in the way i was feeling, and after switching to this complex its made all the difference in the world! My energy levels have been great! I also was not aware there were 2 types of B-12, one is cheaper and less effective then the other. This one of course has the better B-12. I have noticed! Happy with my purchase. 🙂
Love B-Complex
I take one first thing with breakfast on a normal day and two on a busy day. With hypothyroid issues, I need any extra energy that I can find, and this helps a lot to lift my energy and spirits. I am 68 and otherwise healthy! Thanks, will continue to order.
What Is Activated B-Complex?
B-Complex by Pure Prescriptions offers an affordable full spectrum of the necessary B vitamins in their activated form providing superior absorption. This formula stands apart from other brands by using Quatrefolic®, the leading form of activated folic acid without harmful fillers, food dyes or sugars.
B vitamins are important & play many roles in the body that include:
Heart Health*
Healthy Skin & Hair
Prenatal, Cellular, Neurological, Metabolism and much more…
The Eight Vitamins, B1, B2, B3, B5, B6, B7, B9, B12 Are Collectively Known as "The B-Complex."
All eight of these B vitamins are essential nutrients help convert our food into fuel, allowing us to stay energized throughout the day. While many of the following vitamins work in tandem, each has its own specific benefits — from promoting healthy skin and hair to preventing memory loss or migraines and much more.
Top Health Benefits of B Vitamins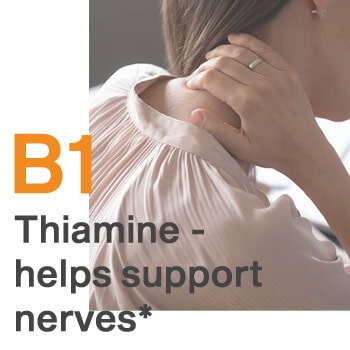 Vitamin B1, or thiamin, helps prevent complications in the nervous system, brain, muscles, heart, stomach, and intestines. It is also involved in the flow of electrolytes into and out of muscle and nerve cells.
Like other B-complex vitamins, thiamine is sometimes called an "anti-stress" vitamin because it may strengthen the immune system and improve the body's ability to withstand stressful conditions. It is named B1 because it was the first B vitamin discovered. It helps prevent diseases such as beriberi, which involves disorders of the heart, nerves, and digestive system.
Patients who may receive thiamin to treat low levels of vitamin B1 include those with peripheral neuritis, which is an inflammation of the nerves outside the brain, or pellagra.
---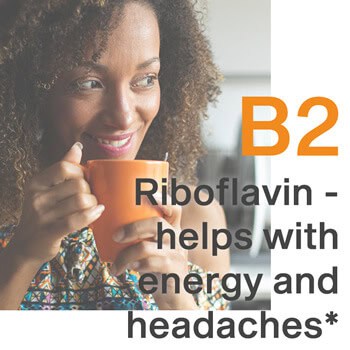 Vitamin B2, or Riboflavin, is a vitamin that is needed for growth and overall good health. It helps the body break down carbohydrates, proteins and fats to produce energy, and it allows oxygen to be used by the body.
In addition to producing energy for the body, riboflavin works as an antioxidant, fighting damaging particles in the body known as free radicals. Free radicals can damage cells and DNA, and may contribute to the aging process. Antioxidants, such as riboflavin, can fight free radicals and may reduce or help prevent some of the damage they cause.
Several studies suggest taking Riboflavin may help people who get migraines by reducing how often they get migraines and how long the migraines last.
---

Vitamin B3, or niacin, is great to have in your diet. Not only is it good for metabolism – but it can also help with cholesterol levels. Research suggests that vitamin B3 can increase "good" cholesterol while also decreasing "bad" cholesterol levels.
Niacin is a vitamin that acts as an antioxidant and plays a role in cell signaling and DNA repair. Deficiency is characterized by skin problems, dementia and diarrhea. Niacin can be used as an oral or lotion to prevent damage to skin cells from sunlight. it has also been found to improving joint mobility, and reduce the need for nonsteroidal anti-inflammatory drugs.
---
The health benefits of vitamin B5, also known as pantothenic acid, include the alleviation of conditions like asthma, hair loss, allergies, stress and anxiety, respiratory disorders, and heart problems.
Vitamin B5 also helps boost immunity, reduce osteoarthritis and signs of aging, increase resistance to various types of infections, stimulates physical growth, and manage skin disorders.

Vitamin B5 acts as a synthesizer of many important components required by the human body. For instance, it is essential for the formation of fats, proteins, carbohydrates, amino acids, and antibiotics, while also stimulating adrenal hormones.
---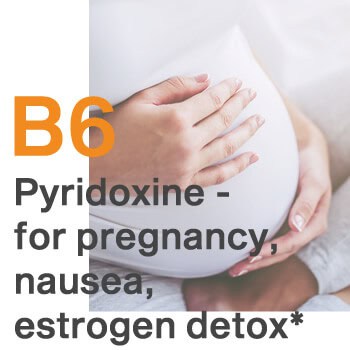 Pregnant women need vitamin B6, or pyrdoxine, for brain development and supporting immune functions. The supplement of the vitamin is used to women for dealing with premenstrual syndrome, depression and for menopause syndromes.
Vitamin B6 is part of the vitamin B complex. It plays a vital role in many functions of the body. It helps in detoxification of the liver, strengthens the blood vessels, relieves mood swings, and cures anemia and boosts neurotransmitters that are the messenger for taking brain signal to the central nervous system of the body.
The deficiency of vitamin B6 leads to fatigue, weakness in muscles, irritability, and erectile difficulties in males. We need to consume B6 on a regular basis, as it is a water soluble vitamin and is flashed out of the body. It is one of the 8 important vitamins that are essential for cardiovascular health, immunity and metabolism.
---
Biotin has been shown to be important for many health factors including supporting neurological functions, steadying blood sugar levels, DNA stability, and hair, skin and nail health.
Vitamin B7, more commonly known as biotin, is a water-soluble vitamin that is vital for the body's metabolism and functioning. It is an essential component of a number of enzymes responsible for several crucial metabolic pathways in the human body, including the metabolism of fats and carbohydrates, as well as amino acids involved in protein synthesis.
Biotin is known to promote cell growth and is often a component of dietary supplements used for strengthening hair and nails, as well as those marketed for skin care.
---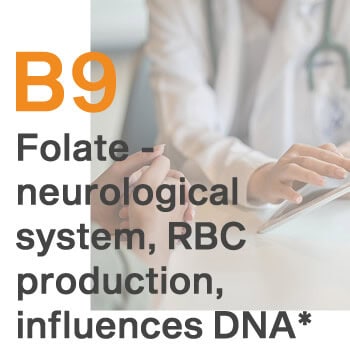 Folate is a water-soluble B-complex vitamin that is found in a variety of vegetables, legumes, pulses and animal foods.
Folate is essential in our body for brain development, red blood cell production, amino acid metabolism and DNA synthesis.
Folate helps to form DNA and RNA and is involved in protein metabolism. It plays a key role in breaking down homocysteine, an amino acid that can exert harmful effects in the body if it is present in high amounts. Folate is also needed to produce healthy red blood cells and is critical during periods of rapid growth, such as during pregnancy and fetal development.
---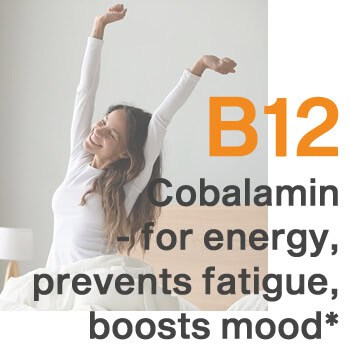 Vitamin B-12 (also known as cobalamin) has been used to enhance mood, increase energy, improve memory, stimulate the immune system, promote healthy sleep, and slow the aging process. It has long been regarded as playing a pivotal role in metabolism and cellular energy production.
Vitamin B-12 is vital to the body's proper functioning.It plays an essential role in the formation and metabolism of your red blood cells (RBCs), as well as in your ability to produce DNA (the genetic material in your cells).
In regards to your nerve cells, vitamin B12 helps maintain their overall health and works to form their protective covering, known as the myelin sheath. At the same time, vitamin B12 helps to prevent you from developing megaloblastic anemia, which is characterized by extreme tiredness and weakness.
---
Clinical research emphasizing the importance of folate supplementation for the following:
Neural-tube defect
Male and female infertility
Spontaneous abortion
Coronary heart disease
Macrocytic anaemia
Methotrexate therapy
Epilepsy
Irritable bowel disease
Cognitive deficits in elderly
Lifestyle putting people at risk of low folate levels:
Smoking
Alcohol excess
Eating disorders
Low vegetables intake
Chronic dieting
Low In Folate? What You Need To Know About Deficiency
Folate deficiency represents one of the most common nutritional deficiencies and may occur when dietary intake is inadequate, when an increased need is not matched by an increased intake (particular physiological conditions such as pregnancy, lactation, child growth), when there is altered absorption/excretion (or losses) and when metabolism or drug use interferes with the ability of the body to use folate.
Several conditions can lead to nutritional folate deficiency such as enzyme defects, malabsorption, digestive system pathology, liver disease but also conditions with a high rate of cell turnover such as rapid tissue growth (infants, kids and adolescents) pregnancy and lactation.
In severe cases deficiency can cause many clinical abnormalities, including macrocytic anemia, cardiovascular diseases, birth neural tube defects (NTDs) and cancer. Folate deficiency is associated with elevated levels of homocysteine, cerebrovascular and neurological diseases, and mood disorders.
The Pure Prescriptions Difference
I think we can all agree, all supplements and vitamins are not created equal. There is no shortage of cheap, ineffective brands you can buy online, from big box retailers and even your local mom and pop stores…but, you'd be better off throwing your money away as most of these are just plain bad for your health.
The right folic acid supplement is very important! Choosing Quatrefolic® as a source of folate presents several advantages:
Provides the active form of folate, 5-methyltetrahydrofolate, naturally present in the body and available for its biological action.
Has been recognized GRAS. In-vitro and in-vivo preclinical and clinical studies to characterize and guarantee the safety profile of the product.
Is produced according to cGMP, guaranteeing a reproducible quality profile.
Glucosamine, as a salt of (6S)-5-methyltetrahydrofolate, does not come from animal sources and the product is suitable for vegetarian consumption.
In the recent years increasing evidence of the advantages of reduced folate vs folic acid have been found. The rational use of reduced folate (particularly reduced and methylated such as Quatrefolic®) is derived from the inability of a part of world population to assimilate and metabolize folic acid from food or supplements (the most of folate assumption is coming from folic acid man-made version in supplements and added to foods).
Folic acid and also food folate are not biologically active and need to be converted to the metabolically active 5-methyltetrahydrofolate (5-MTHF) through a multi-steps process where the enzyme methylenetetrahydrofolate reductase (MTHFR) owns a key role. It is estimated that over 50% of the population has a defect in the MTHFR gene.
In individuals with a MTHFR gene defect this enzyme conversion is limited and consequently it will predispose these individuals to not being able to use supplemental folic acid or dietary folate. This conversion deficiency can lead to an increased risk for certain disease conditions. To ensure proper methylation, Quatrefolic® is recommended by top health professionals world wide.*
Vitamin B12 (as Methylcobalamin)
Found naturally in fish, shellfish, dairy, eggs, beef and pork
B12 is known as the "energy vitamin" because it works together with vitamin B9 (Folic Acid/Folates) to produce red blood cells and help iron do its job: create the oxygen carrying protein, hemogloblin.
But that's not all B12 does!
Vitamin B12 supports healthy nerve cell activity and DNA replication. Vitamin B12 also acts with folic acid and vitamin B6 to control homocysteine levels. An excess of homocysteine is associated with an increased risk of heart disease, stroke, and potentially other diseases such as osteoporosis and Alzheimer's disease.*
What you need to know about Vitamin B12
Given that B12 is found only in animal-based foods, supplementing quality B-12 is absolutely essential. If you're already a vegan, then you know this, which leads us to the quality. When looking at supplements you want to make certain that the B12 is as a Methylcobalamin and NOT as Cyanocobalamin.
B12 as Cyanocobalamin is a cheap form used by many manufacturers to keep the cost down. There are two reasons why B12 as Methylcobalamin is superior:
#1 The safety of Cyanocobalamin has raised concerns due to the fact that cyanide is a component of this cheap form of B12, and the cyanide molecule is removed from Cyanocobalamin when used by the body's cells.
#2 The body must convert Cyanocobalamin into an active form first, whereas B12 as Methylcobalamin is already in the active form and ready to be used by the body.
If read this far, it's probably very clear that you want to avoid cheap Vitamin B-Complex products and go for Pure Prescriptions brand, containing only activated and highly absorbable forms of all eight B-vitamins that do not contain any harmful magnesium stearate fillers and binders, no food dyes or sugar.
Recommended Reading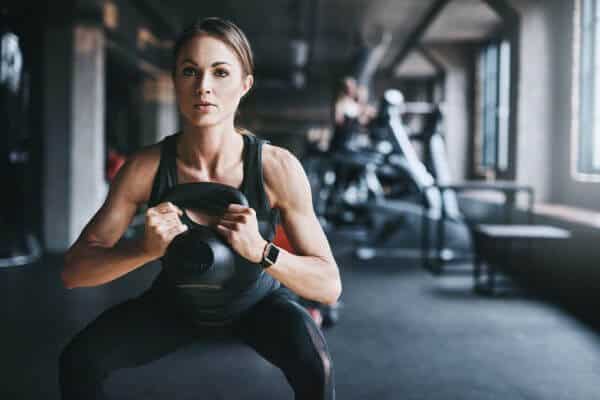 Energy, Hair Skin, Nails & More. B vitamins are a group of essential nutrients that [...]