When the Holidays are upon us turn to this filling, savory and nutty loaf as the centerpiece for your feast. We recommend using all of the optional ingredients for the ultimate loaf experience!
Recipe Courtesy of Chef Mark Reinfeld – The Doctor & The Chef
Recipe type: Entree
Cuisine: Holiday
Serves: 6
• 1 cup dry wild and brown rice mix
• 1-3/4 cups vegetable stock or water
• 2 teaspoons sea salt, divided
• 1 tablespoon olive oil or coconut oil
• 1 cup diced onion
• 3/4 cup thinly sliced celery
• 5 cloves garlic, pressed or minced
• 1 cup finely chopped pecans, optionally toasted in a 350°F oven for 10 minutes
• 1 15 ounce can cooked lentils (1-1/2 cups cooked)
• 2 tablespoons minced fresh sage
• 2 tablespoons finely chopped flat leaf parsley
• 1/4 teaspoon ground black pepper
• 1-1/2 tablespoons wheat free tamari, to taste, optional
• 1/2 teaspoon minced fresh rosemary, optional
• 2 tablespoons nutritional yeast, optional
• 1 teaspoon smoked paprika or 1/4 teaspoon crushed red pepper flakes, optional
• 1/2 cup gluten-free breadcrumbs, optional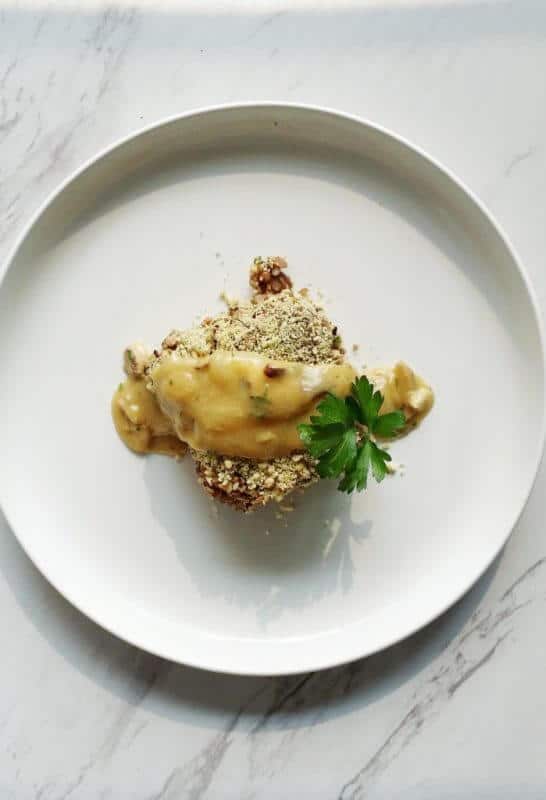 1. Preheat the oven to 350°F. Place the rice, vegetable stock and teaspoon sea salt in a pot over medium high heat. Bring to a boil.
Reduce the heat to simmer, cover, and cook until all liquid is absorbed, approximately 50 minutes.
2. Meanwhile, heat a saute pan over medium high heat. Add the oil. Add the onions and celery and cook for 3 minutes, stirring frequently and adding small amounts of water if necessary to prevent sticking. Add the garlic and cook for 3 minutes, stirring frequently.
3. Transfer to a bowl along with remaining ingredients, including the remaining 1 teaspoons salt, and mix well. Add the cooked rice mixture and stir well.
4. Transfer to a well oiled 8 inch by 8 inch casserole dish and press down firmly. Top with breadcrumbs, if using, and bake for 40 minutes.
5. Cool slightly before slicing and serving. Serve with Golden Gravy.
For an oil-free version, omit the oil and add 1/4 water or vegetable stock to sauté the onions, celery and garlic.
Add 1 cup diced mushrooms along with the onion and celery.
Get These Other Related Vegan Recipes
Comment Below to share your opinion & experience with Chef Mark Reinfeld's vegan dinner — And if you like what you see, we'd love it if you could give us a share on social media!