An easy and delicious vegan gravy that will dress up your Holiday meals. This recipe is part of our Complete Vegan Thanksgiving Dinner menu and recipes developed for Natural Grocers.
Recipe Courtesy of Chef Mark Reinfeld – The Doctor & The Chef
Recipe type: Sauce
Serves: 4 cups
• 1/4 cup all purpose gluten-free flour
• 1/4 cup safflower oil
• 1 cup onion, half moon slices
• 2 tablespoons garlic, minced
• 1 cup thinly sliced shiitake mushrooms
• 2-1/2 cups water or veggie stock
• 1/4 cup nutritional yeast
• 1/4 cup soy sauce, try gluten free tamari
• 1 tablespoon chiffonade fresh sage
• 2 tablespoons finely chopped Italian parsley
• 1/4 teaspoon fresh ground black pepper
• sea salt – to taste
1. Create a roux by combining flour and 3 tablespoons oil in a small bowl and whisking well.
2. Place remaining tablespoon of oil in a sauce pan on medium high heat. Add onion, garlic and mushrooms, and cook until onions are translucent, approximately 5 minutes, stirring frequently.
3. Add water, nutritional yeast, soy sauce, sage and bring to a boil, stirring frequently. Reduce heat to simmer, add roux and stir constantly until sauce thickens. Add parsley, salt and pepper to taste and stir well before serving.
Complimentary Vegan Recipes
When the Holidays are upon us turn to this filling, savory and nutty loaf as the [...]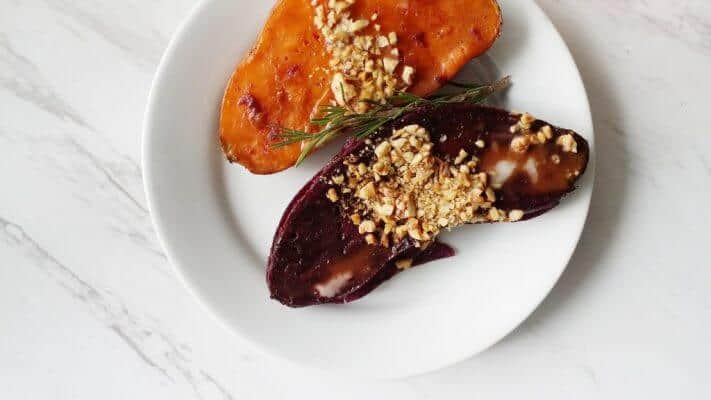 Creamy and decadent, this luscious dish is a perfect dish to serve at your holiday [...]
Serve this sweet and tart sauce to your sweetheart and other loved ones at your [...]
Comment Below to share your opinion & experience with Chef Mark Reinfeld's vegan recipes — And if you like what you see, we'd love it if you could give us a share on social media!