The ultimate in plant-based holiday roasts, serve this decorative loaf as a side dish or as the centerpiece. Feel free to break out the electric carving knife for a dramatic effect as carving. Top with Cranberry Apricot Sauce with Crystallized Ginger.
Recipe Courtesy of Chef Mark Reinfeld – The Doctor & The Chef
Recipe type: Entree
Serves: 4-6
1 large cauliflower
1 cup vegetable stock or water
3 – 4 tablespoons olive oil, divided
1 ½ teaspoons sea salt, divided
¼ teaspoon ground black pepper, try smoked
2 tablespoons freshly squeezed lemon juice
2 tablespoons chiffonade fresh basil
1 tablespoon finely chopped fresh flat-leaf parsley
1 tablespoon chiffonade fresh sage
1 teaspoon garlic granules
½ teaspoon minced fresh rosemary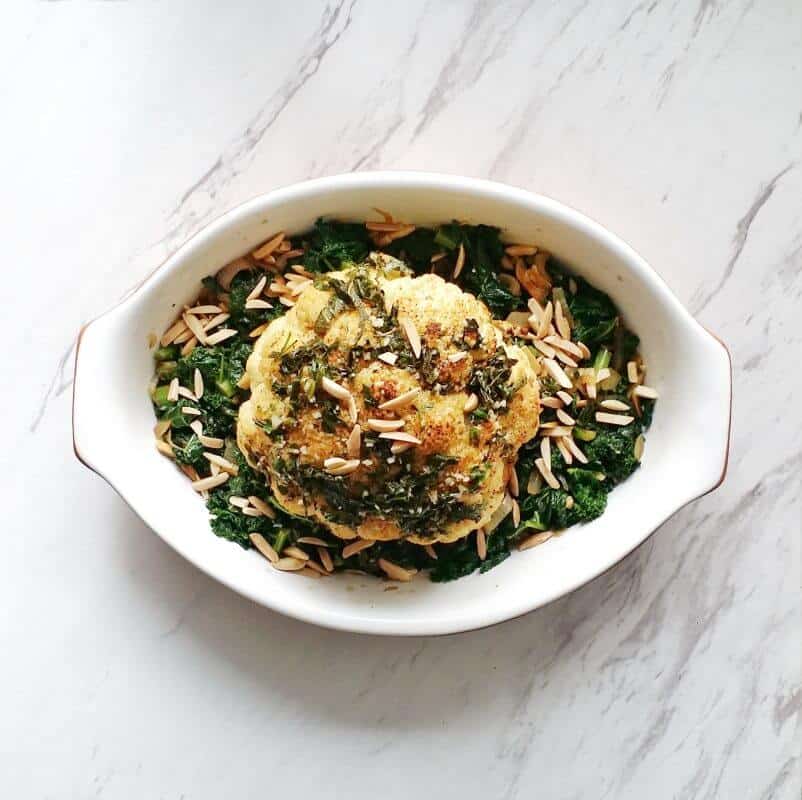 1. Preheat the oven to 425°F. Place the water in an 8 inch by 8 inch casserole dish. Add the cauliflower. Drizzle with 1-2 tablespoons olive oil, and top with ½ teaspoon salt, and the black pepper. Use your (clean) hands to evenly coat the cauliflower.
2. Cover with aluminum foil, being sure not to have the foil contact the food, and bake until cauliflower is just tender all the way through, approximately 45-50 minutes. Remove the foil.
3. Change oven setting to HIGH broil. Broil for 5 minutes, or until the outside of the cauliflower turns a crispy brown. Remove from the oven.
4. Place the remaining ingredients in a small bowl. Baste cauliflower well before showing off, slicing and serving.

Comment Below to share your opinion & experience with Chef Mark Reinfeld's vegan dinner — And if you like what you see, we'd love it if you could give us a share on social media!