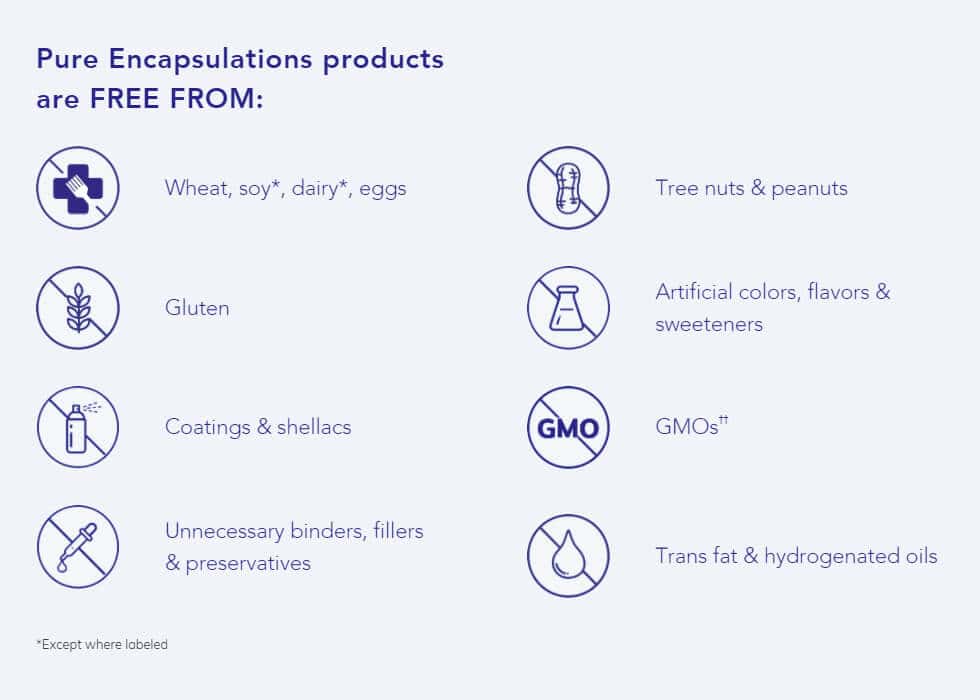 Suggested Use: 3 capsules, 1-2 times daily, with meals
Men's Nutrients – Men over 40 have different needs and health concerns. Pure Encapsulations formula Men's Nutrients, is a complete multi-vitamin and mineral with additional herbal extracts for prostate cell health, ocular integrity, cardiovascular support and prostate function. This complete formula contains hypo-allergenic, nutrient rich ingredients that are activated for absorbability. Special cardiovascular supportive polyphenols and antioxidants are included to promote healthy aging, and protection from free radical damage.
Men's Nutrients
What Is It?
Men's Nutrients is designed for men over 40. It is a complete hypo-allergenic, nutrient rich, highly bioavailable multi-vitamin, multi-mineral and trace element supplement. The formula combines superior mineral cofactors, activated vitamins and antioxidants to support optimal health. These nutrients are blended with herbals extracts to offer additional support for endurance, macular integrity, cardiovascular health, prostate function and prostate cell health.*
Indications
Support for men over 40
Vitamin/Mineral Distinctions:
High potency, hypo-allergenic, vegetarian formula
Activated vitamins and superior mineral chelates for optimal absorption
Antioxidant support from naturally derived vitamin C, vitamin E, beta carotene, lycopene, lutein, zeaxanthin and alpha lipoic acid
Yeast-derived selenium and 1,000 i.u. vitamin D3 for optimal prostate health*
Special Features:
ProstaProtect Plus
Supports prostate function with saw palmetto and pygeum and maintains healthy prostate cells with lycopene and green tea. Synergistic cofactors include selenium, vitamin E, vitamin D and zinc.*
EnduraBoost Blend
Combines cordyceps and maca to promote energy, endurance and stamina.*
CardioPhenol Complete
Maintains healthy blood vessel function with polyphenols from pomegranate, red wine concentrate and grape seed extract.*
MacularSynergy Complex
Enhances the integrity of the macula and retina with 6 mg lutein and 1 mg zeaxanthin. Synergistic cofactors include vitamin C, vitamin E, zinc and carotenoids.*
Recommendations
Pure Encapsulations recommends per 4-6 capsules per day, in divided doses, with meals.
Are There Any Potential Side Effects Or Precautions?
Saw palmetto and green tea have been associated with dizziness, headache, and gastrointestinal upset, including nausea, vomiting, bloating, dyspepsia, constipation or diarrhea. Consult your physician for more information. Not to be taken by pregnant or lactating women. Take with food. If you have liver problems, consult your health care practitioner before use. Vitamin K may be contraindicated with Coumadin (Warfarin). If you have any health condition or are taking any medication, particularly blood thinning medication, consult your health professional before use.
Are There Any Potential Drug Interactions?
Grape seed extract, green tea and saw palmetto may be contra-indicated with blood thinning medications. Cordyceps is contra-indicated with immunosuppressant medications. Consult your physician for more information.
What Is The Source?
The nutrients found in Men's Nutrients are derived from the following:
Mixed carotenoids: Blakeslea trispora
Lycopene: natural tomato concentrate
Lutein††: marigold flower extract
Zeaxanthin†: synthetic
Vitamin C: corn dextrose fermentation
Vitamin D3: cholesterol from wool fat (lanolin)
Vitamin E: soybean oil
Vitamin K1: synthetic
Vitamin B1 (thiamine HCl): synthetic
Vitamin B2 (riboflavin): corn dextrose fermentation
Niacinamide and Niacin: synthetic
Vitamin B5 (calcium pantothenate): synthetic
Vitamin B6 (pyridoxal HCl): synthetic
Vitamin B12 (methylcobalamin): corn dextrose fermentation
Folic acid: synthetic
Biotin: synthetic
Alpha lipoic acid: synthetic
Selenium†††: selenized yeast (Saccharomyces cerevisiae)
Minerals: naturally derived from limestone
Sources of the mineral chelates include:
Citrate: corn dextrose fermentation
Glycinate: synthetic
There is no detectable GMO material in this product. Saw palmetto extract is derived from Serenoa repens fruit and standardized to contain 45% total fatty acids. Pygeum africanum extract is derived from the bark and standardized to contain 2.5% total sterols. Green tea extract is derived from Camellia sinensis and standardized to contain 65% total tea catechins and 23% epigallocat- echin gallate (EGCG). Red wine concentrate is derived from Vitis vinifera whole grape and standardized to contain 25% polyphenols. Grape seed extract is derived from Vitis vinifera seed and standardized to contain 92% polyphenols. Pomegranate extract is derived from Punica granatum L. whole fruit and standardized to contain 40% punicosides. Maca extract (4:1) is derived from Lepidium meyenii tuber. Certified organic Cordyceps sinensis is derived from mycelia.