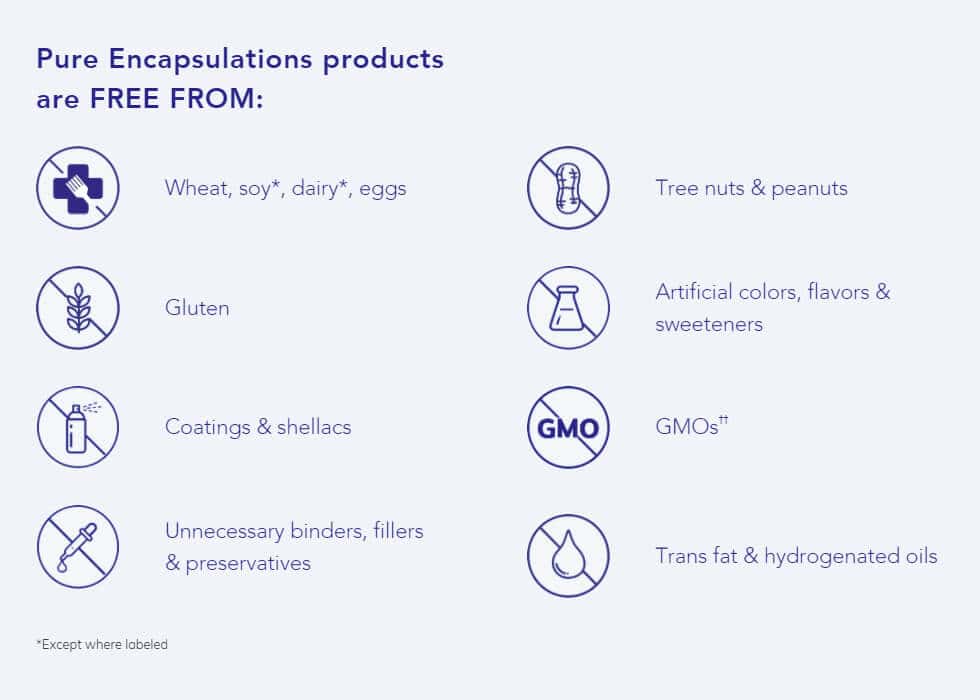 Suggested Use: 2-8 capsules per day, in divided doses, with meals.
Tri-EFA – Pure Encapsulations Tri-EFA incorporates Omega-3 and Omega-6 fatty acids derived from borage seed oil, flax seed oil and fish oil. Combining these fatty acids provides enhanced essential fatty acid support. Fish oil in particular, supports the cardiovascular and a nervous system, joint support, and also promotes healthy skin. Flax seed oil is supportive of vascular function and lip metabolism. Gamma linolenic acid or GLA is beneficial for immune system support. This highly superior oil is molecularly distilled and micro filtered for absolute purity and freshness.
A triple combination of essential fatty acids supporting various physiological functions
The omega-3 fatty acids alpha-linolenic acid (ALA) and EPA/DHA, derived from flax seed oil and cold water fish oil, respectively, are combined with omega-6 gamma- linolenic acid (GLA), derived from borage seed oil, to provide enhanced essential fatty acid support. EPA/DHA from fish oil has been shown to support cardiovascular, joint, emotional and skin health. ALA from flax seed oil may be specifically supportive of healthy lipid metabolism and vascular function. GLA is an important precursor of prostaglandin E1, a compound that supports blood flow and vascular health. GLA also promotes healthy immune mediator activity in tissues and maintains healthy arachidonic acid metabolism, actions that provide potential support for joint comfort and skin health.
Tri-EFA offers a convenient combination of essential fatty acids for broad-spectrum and complementary support of cardiovascular, emotional, joint and skin health.
REFERENCE: von Schacky C et al. The effect of dietary omega-3 fatty acids on coronary atherosclerosis. A randomized, double-blind, placebo-controlled trial. Ann Intern Med 1999 Apr 6;130(7):554-62.