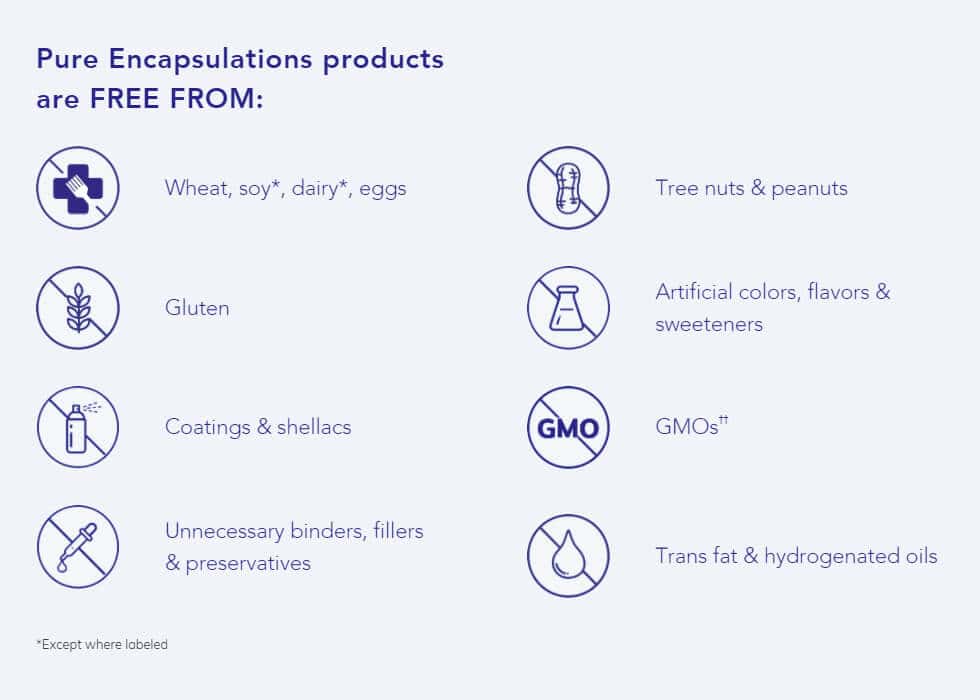 Pure Genomics Multivitamin (Improved Version) – Information, Usage, Dosage & Recommendations
What Is Pure Genomics™ Multivitamin?
PureGenomics® Multivitamin is a once-daily multivitamin/mineral formula designed to address the nutrient requirements of common genetic variations in the methylation pathway. Methylation plays many roles, including neurotransmission, vitamin assimilation, DNA synthesis and gene regulation. These functions maintain cardiovascular health, detoxification, neuro-protection, cognition, emotional wellness and cellular protection. PureGenomics® Multivitamin provides a comprehensive profile of highly bioavailable vitamins, fully-chelated minerals and antioxidants to support optimal health in a gentle hypoallergenic formula well tolerated by sensitive individuals.*
Indications for Pure Genomics Multivitamin
Men and women ages 18 and over Vitamin and Mineral Distinctions:
Provides vitamins A, B, C, D, E and K in highly bioavailable forms
Includes activated B vitamins, including pyridoxal-5-phosphate, riboflavin-5-phosphate, enhanced-retention thiamin derivative benfotiamine and 800 mcg of Metafolin® L-5-methyltetrahydrofolate (L-5-MTHF), the naturally occurring, universally metabolized form of folate
Offers vitamin B12 in unique blend of adenosylcobalamin and hydroxycobalamin
Contains 1,000 IU of vitamin D to support healthy VDR activity*
Pure Genomics Multivitamin Special Features:
Convenient, one-capsule-per-day dosing for PureGenomics Multivitamin
Addresses the nutrient requirements of common genetic variations in the methylation pathway with B vitamins and choline*
Supports retinal health with lutein and zeaxanthin*
What Is The Source of the ingredients for this multivitamin?
The nutrients found in PureGenomics® Multivitamin are derived from the following: Vitamin A: synthetic Mixed carotenoids: Blakeslea trispora Lutein: marigold flower extract Zeaxanthin: synthetic Vitamin C: corn dextrose fermentation Ascorbyl palmitate: corn dextrose fermentation and palm oil Vitamin D3: cholesterol from wool fat (lanolin) Vitamin E: purified soybean oil Vitamin K1 : synthetic Vitamin K2 (menaquinone-7): geraniol and farnesol flower extracts Vitamin B1 (thiamin HCl): synthetic Vitamin B2 (riboflavin): corn dextrose fermentation Niacinamide: synthetic Vitamin B5 (calcium pantothenate): synthetic Vitamin B6 (pyridoxal HCl): synthetic Vitamin B12 (hydroxycobalamin and adenosylcobalamin): corn dextrose fermentation Folate (Metafolin®, L-5-MTHF): synthetic Biotin: synthetic Choline: synthetic Minerals: naturally derived from elemental ore Sources of the mineral chelates include: Citrate: corn dextrose fermentation Glycinate and Orotate: synthetic There is no detectable GMO material in this product
Pure Genomics Multivitamin Dosage Recommendations
Pure Encapsulations® recommends 1 capsule daily, with a meal.
Are There Any Potential Side Effects Or Precautions?
If pregnant or lactating, have any health condition or are using any medication, consult your health professional before use. Consult your physician for more information.
Are There Any Potential Drug Interactions?
PureGenomics® Multivitamin contains vitamin E, which may react with blood-thinning medications. Vitamin K may be contraindicated with Coumadin (Warfarin).