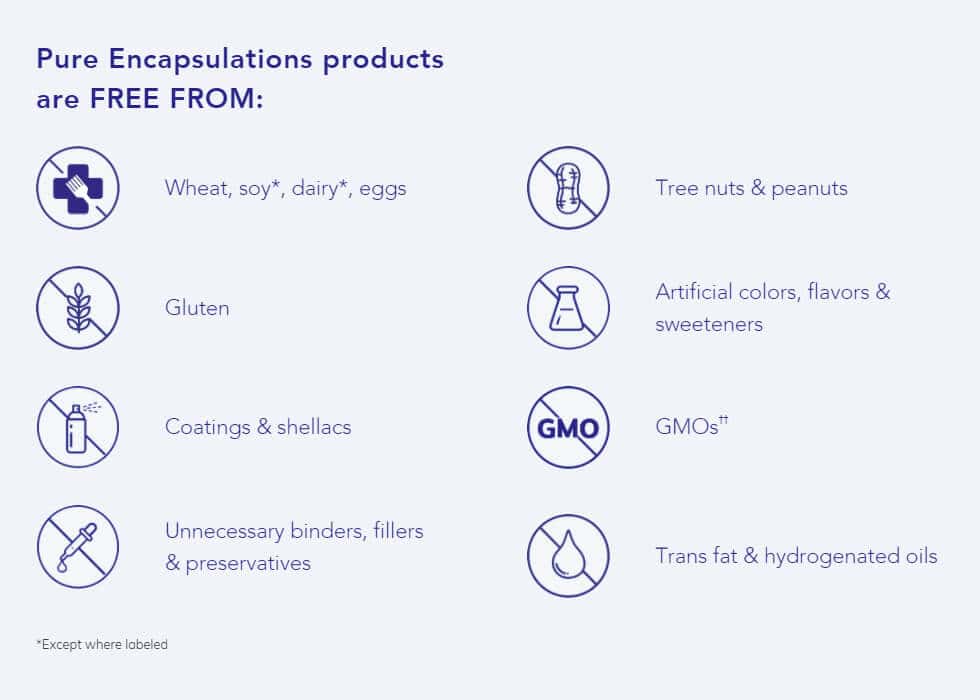 Suggested Use: 2 capsules daily, in divided doses, with meals.
Macular Support – Pure Encapsulations Macular Support, is the top selling eye support formula on our website. This formula provides amino acids, vitamin C, proanthocyanidins and vital carotenoids to protect against free radical damage to the retinal tissues. A vital choice for anyone with eye sight concerns, familial eye issues or those with failing vision. Safe and effective, support your eyesight today!
Macular Support Formula is a combination of powerful antioxidants and botanicals designed to protect and support the macula, the central area of the retina responsible for sharp vision. Since the macula is extremely susceptible to free radical damage, current research emphasizes the importance of antioxidant supplementation in maintaining and improving macular health. N-acetyl-l-cysteine, a glutathione precursor, has been shown to protect against oxidative damage to the lens and to support healthy glutathione levels. Glutathione is one of the natural antioxidants found in retinal tissues. Bilberry, containing anthocyanidins, may help moderate visual fatigue and improve light to dark adjustments. Combined with these cofactors, grape seed extract helps provide antioxidant balance in the retina. This formula is also enhanced with lutein and zeaxanthin, the only two carotenoids found in macular pigment. Lutein and zeaxanthin promote the integrity and density of the macular pigment, as well as help maintain the health of the optical lens. The antioxidant activity of carotenoids and vitamin C provide optimal macular protection and ocular health. This comprehensive formula brings together lutein, zeaxanthin, proanthocyanidins, amino acids and vitamin C to provide exceptional protection against free radicals in retinal tissues.
††FloraGlo® lutein is a registered trademark of Kemin Industries, Inc. Zeaxanthin is sourced from OPTISHARP™ brand. OPTISHARP™ is a trademark of DSM Nutritional Products, Inc. Setria® is a registered trademark of KYOWA HAKKO BIO Co.,Ltd