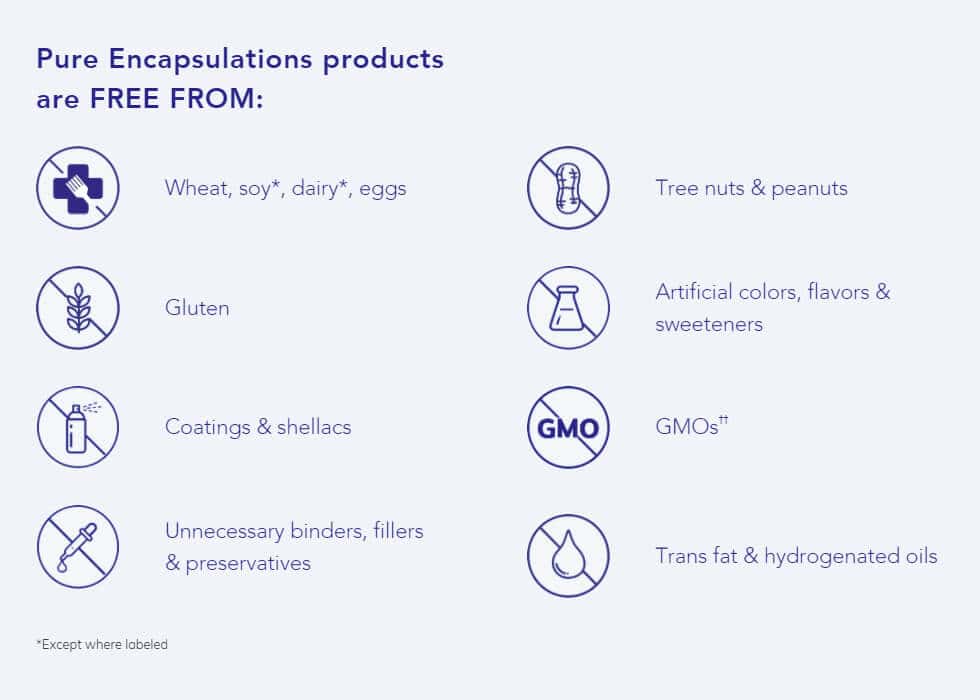 Suggested Use: 1-4 capsules per day, in divided doses, between meals.
Bioflavonex – Pure Encapsulations offers BioFlavonex, a combination of concentrated extracts to support the liver, cardiovascular system and provide cellular protection. This formula can be taken by itself or as a complementary product when taking the UltraNutrients multivitamins as well as the Nutrient 950 multivitamins. Feel free to call us directly to speak with one of our vitamin specialists if you have any questions on this or any of our products here at Pure Prescriptions.
What Is It?
Bioflavonex is a bioflavonoid formula combining concentrated, standardized extracts of grape seed, green tea, milk thistle, and resveratrol. Bioflavonoids are water-soluble plant pigments with powerful antioxidant properties.*
Features Include
Grape seed polyphenols and oligomeric proanthocyanidins provide protective support for capillaries and blood vessels. These compounds are among the most powerful antioxidants known in nature, as laboratory studies have shown them to be 20 times more powerful than vitamin C and 50 times more powerful than vitamin E in antioxidant capability. Oligomeric proanthocyanidins have also been shown to inhibit collagenase, elastase and hyaluronidase enzyme activity, supporting blood vessel integrity.*
Resveratrol, promoting cardiovascular health through its antioxidant action and its ability to maintain healthy platelet function and arachidonic acid metabolism. Furthermore, this polyphenol most commonly associated with the health benefits of red wine provides additional antioxidant support for blood vessel integrity.*
Green tea, containing catechins, a class of polyphenols that promote cardiovascular, immune and cellular function. The antioxidant activity of green tea catechins, specifically epigallocatechin gallate, also protects cells from lipid peroxidation and preserves and promotes vitamin E levels in the body.*
Silymarin, stabilizing hepatic cell membranes and scavenging free radicals and toxins in the liver. Two of silymarin's mechanisms involve promoting superoxide dismutase antioxidant enzyme activity and increasing glutathione concentrations in the liver.*Uses For BioflavonexBioflavonex combines natural, concentrated bioflavonoid extracts for cardiovascular, liver, and cellular antioxidant protection.*

What Is The Source?

This formula contains: grape (Vitis vinifera) seed extract (standardized to contain 92% polyphenols); green tea extract (standardized to contain a minimum of 65% total tea catechins, providing 23% epigallocatechin gallate (EGCg)); milk thistle (Silybum marianum) extract (standardized to contain 80% silymarin); resveratrol (Polygonum cuspidatum) extract (standardized to contain 20% trans resveratrol and 10% emodin); and vitamin C (ascorbyl palmitate) (corn dextrose fermentation).

Are There Any Potential Side Effects Or Precautions?

If pregnant or lactating, consult your physician before taking this product. Frequent use of green tea may impede the absorption of non-heme iron (the form of iron in plant foods).

Are There Any Potential Drug Interactions?

This formula may potentially inhibit the absorption of certain medications, including: codeine, as well as asthma, allergy, antidiarrheals, blood thinning and other heart medications. Consult your physician for more information.