Thieves is an essential oil blend and one of the best-selling oils from Young Living. It's a blend made with Cinnamon, Clove, Eucalyptus Radiata, Rosemary and Lemon essential oils. It smells like fresh-baked cookies (it's spicy and earthy), and can be used as a dietary supplement.
Thieves is available in a 15 ml size for topical and aromatic use, and as Thieves Vitality in a 5 ml bottle for dietary and internal use. It's the exact same oil blend in both bottles. The labels just indicate different uses to make it easier for you to know how to use them.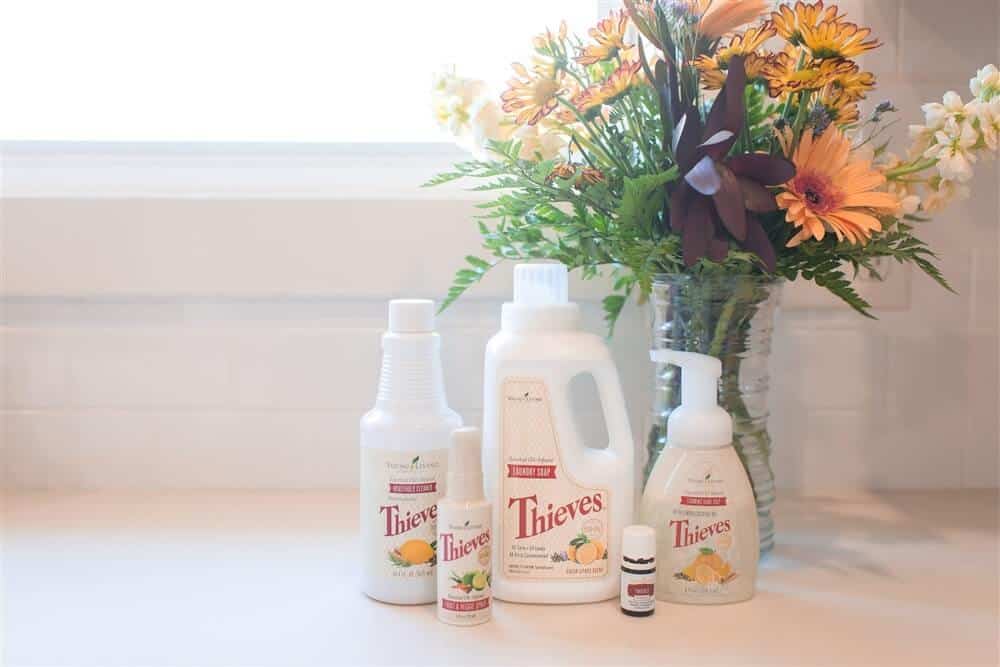 10 Uses for Thieves Essential Oil
1. Make a Wellness Tea
Add a drop of Thieves Vitality and a spoonful of raw honey to a warm cup of water. Enjoy in the morning or anytime you need a boost.
2. Spice Up Apple Cider
Add a drop of Thieves Vitality to a cup of warm apple cider. It can help to spice it up and enhance the flavor of the apple.
3. Add Flavor to Applesauce
Add Thieves Vitality to a batch of applesauce to spice it up. Start with a drop or two and add more Thieves as needed.
4. Support Healthy Immune Function
When taken internally, Thieves Vitality can help to support health immune function. Add a drop to a spoonful of honey or even add a vegetable capsule and top with coconut oil to take as a dietary supplement.
5. Support a Healthy Respiratory System
The Thieves Vitality essential oil blend contains Eucalyptus Radiata essential oil, which may help maintain a healthy respiratory system, when taken as a dietary supplement.
6. Add to Your Toothpaste
If you like to DIY, you can make homemade toothpaste and add Thieves Vitality essential oil. It tastes fantastic.
7. Ditch Your Air Freshener
Make your home smell like fresh-baked cookies (that's what I think Thieves smells like in the diffuser) or like your favorite fall scent. Just add a few drops to your diffuser. If you have friends or family over at your home, Thieves is the perfect essential oil to diffuse.
8. Clean Your Home
You can make your own DIY household cleaner with Thieves essential oil or use Thieves Household Cleaner to clean virtually every surface of your home. It smells great too.
9. Enjoy with a Shot of NingXia Red
Enjoy a drop of Thieves Vitality with a shot of NingXia Red, an antioxidant drink made from wolfberries (which are gogi berries from China). It's spicy, refreshing and great for helping to support a healthy immune system.
10. Make a DIY Breath Spray
Add 2-3 drops of Thieves essential oil to a 0.5 oz spray bottle and fill with water. Use as needed to freshen breath.
Looking for all thieves products, including household items?
Shop All Thieves Products Here
Shop All Essential Oils Here
Give Us Your Thoughts!
What's your favorite use for Thieves? Please comment below and share with others.