what is thieves essential oil?
Thieves essential oil blend is a powerful combination of Clove, Lemon, Cinnamon Bark, Eucalyptus Radiata, and Rosemary essential oils that fills any space with a rich, spicy aroma.

As one of our most popular products, it's no wonder that Thieves essential oil blend is included in so many of our home cleaning and personal care products. It is a key ingredient in Thieves® Cleaner, Thieves® Waterless Hand Purifier, Thieves® Laundry Soap, and Thieves® Foaming Hand Soap. Thieves blend is your go-to for an invigoratingly clean and spicy scent that smells more like fall baking than harsh cleaning formulas.
Looking For More Young Living Oils?
Find All Young Living Products We Carry, Here.
thieves KEY INGREDIENTS
Clove, Lemon, Cinnamon Bark, Eucalyptus Radiata, and Rosemary essential oils
EXPERIENCE
Thieves essential oil blend has a warm, spicy scent. Diffuse it for a fresh, clean aroma around the house or apply it topically for its cleansing properties.
about thieves (background)
In France during the 15th century, thieves would sneak into graveyards to rob from the dead and dying. Legend says they protected themselves by creating a special aromatic combination composed of clove, rosemary, and other botanicals. Today, Thieves essential oil blend is inspired of those tales of old. Combining Clove, Cinnamon Bark, Lemon, Eucalyptus Radiata, and Rosemary essential oils, this blend is one of our most popular products. Use it with household cleaning products or diffuse it to freshen up a room.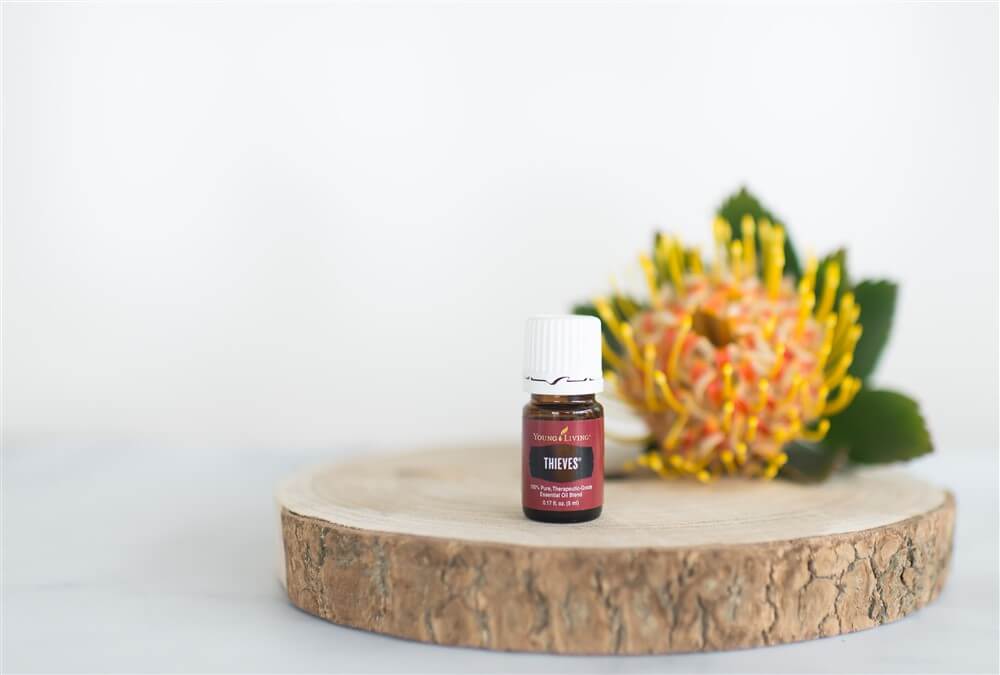 thieves BENEFITS & FEATURES
Cleansing when applied topically
Neutralizes and purifies the air from strong odorswhen diffused
Freshens any atmosphere when diffused
Includes the naturally occurring constituents trans cinnamaldehyde (Cinnamon Bark), limonene (Lemon) and eucalyptol (Eucalyptus Radiata and Rosemary)
SUGGESTED USE for thieves oil 
Refresh musty carpets by adding 5 drops of Thieves to a cup of baking soda; combine well and let sit overnight until the oil is absorbed. Sprinkle over carpets and vacuum thoroughly.
Diffuse 6–8 drops to help create a cozy, peaceful environment. Customize your Thieves experience by adding a few drops of Orange, Tangerine, or Nutmeg essential oil.
Add a few drops to your dishwater or dishwasher to eliminate odors and boost cleaning.
Diffuse it around the classroom or in your home for a fresh, clean fragrance and to neutralize the air from strong odors.
thieves oil ingredients
Eugenia caryophyllus† (Clove) bud oil, Citrus limon†(Lemon) peel oil, Cinnamomum zeylanicum† (Cinnamon)bark oil, Eucalyptus radiata† leaf oil, Rosmarinusofficinalis† (Rosemary) leaf oil
Thieves faq
Q. Can Thieves be ingested?
A. Thieves is labeled for topical and aromatic use and
is not intended for internal consumption. Be sure to always follow individual label instructions for Young Livingproducts. Try Thieves Vitality for internal use.
Q. Does Thieves need to be diluted for topical application?
A. Yes, dilute 1 drop of Thieves with 4 drops of V-6 Vegetable Oil Complex or olive oil. Test on a small area of skin on the underside of your arm. Apply to desired area as needed.
Q. What is the aroma of Thieves?
A. Thieves has a rich, spicy aroma that can transform any environment with its fresh, clean fragrance.
related / complimentary product