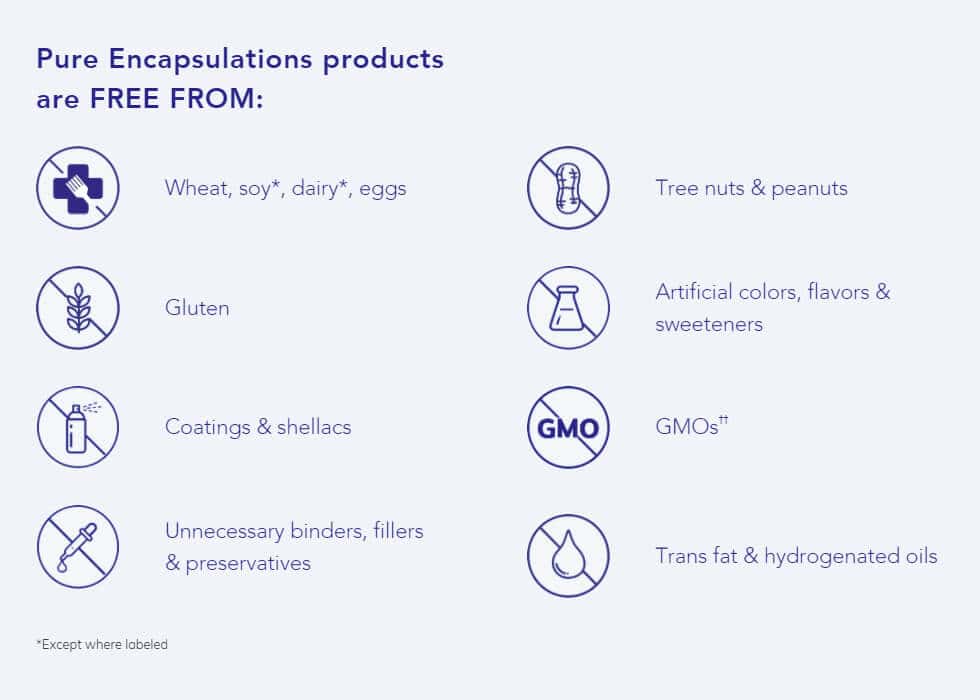 Suggested Use: 1-2 capsules per day, with meals.
Vitamin E – Vitamin E is a fat-soluble nutrient vital for the stabilization of blood fats that protect the arteries, heart and entire body. Acting like an antioxidant, as well as a nutrient, this versatile vitamin reduces oxidation of lipid membranes and fatty acids. The most active form of Vitamin E is D-alpha tocopherol, but is generally combined with the other forms toocpherols-alpha, beta, gamma and delta. The other form Vitamin E may be found in is tocotrienols. Pure Encapsulations utilizes mixed tocopherols in their formula, combining the various forms of this necessary nutrient. Vitamin E is not readily stored in the body like other fat-soluble vitamins, taking daily is recommended to ensure healthy levels.
What Is It?
Vitamin E is a fat-soluble vitamin that contains a family of compounds called tocopherols, including d-alpha, beta, delta and gamma.*
Uses For Vitamin E
Antioxidant Support And Protection: Vitamin E is a powerful chain-breaking antioxidant and free radical scavenger and is considered the first line of defense against lipid peroxidation. It protects the integrity of the body's cellular membranes, and has the ability to unite with oxygen and prevent it from being converted into toxic peroxides.*
Cardiovascular Support: Vitamin E plays a beneficial role in the cellular respiration of muscles, especially cardiac and skeletal muscles. It also supports platelet function and blood vessel health.*
Cellular Function: Vitamin E plays a role in nucleic acid and protein metabolism, mitochondrial function, and hormone production.*
What Is The Source?
Vitamin E is derived from soy. There is no detectable GMO material in this product.
Are There Any Potential Side Effects Or Precautions?
At this time, there are no known side effects or precautions. If pregnant or lactating, consult your physician before taking this product.
Are There Any Potential Drug Interactions?
Vitamin E may react with aspirin and blood thinning medications. Consult your physician for more information.