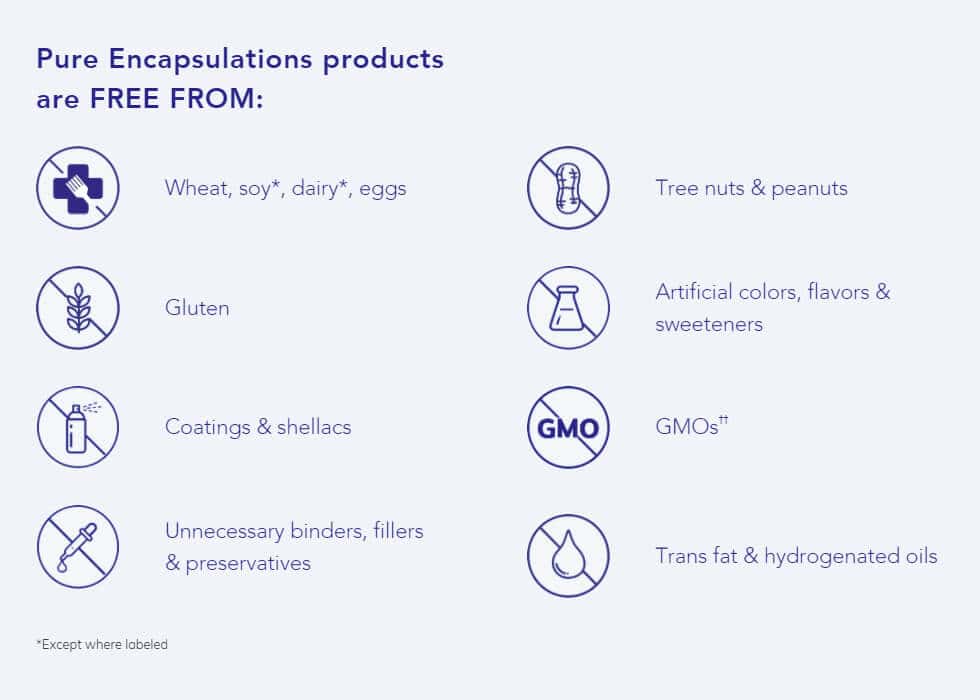 Suggested Use: 1-2 capsules per day, in divided doses, with meals.
Alpha-Lipoic Acid – Alpha-Lipoic Acid by Pure Encapsulations offers excellent antioxidant protection as it is both water and lipid soluble. This multifunctional antioxidant also supports glucose metabolism and nerve health. If you have any questions about alpha-lipoic acid, its benefits or dosage information, please do not hesitate to give one of our nutrition experts a call today. Our knowledgeable vitamin and supplement experts will be able to help personalize a custom health program just for you at no charge.
What Is It?
Alpha lipoic acid is an exceptionally versatile nutrient. Being both water and fat soluble, it is able to function in almost any part of the body. It is a potent antioxidant which enhances the activity of vitamins C and E. It is a multifunctional compound providing protection from free radicals and supporting various metabolic processes. It has been associated with supporting nerve health, cardiovascular function, and glucose metabolism.*
Uses For Alpha Lipoic Acid
Nerve Health: At this time, as many as fifteen clinical trials have examined the role of alpha lipoic acid in maintaining healthy nerve function. The results of these trials have typically demonstrated that alpha lipoic acid administration provides neuroprotection. In part, this may be due to alpha lipoic acid's ability to modulate nitric oxide metabolite activity and to promote healthy microcirculation.*
Glucose Metabolism: Alpha lipoic acid supports healthy glucose uptake and helps to maintain healthy glucose utilization. It also plays a role in moderating the formation of advanced glycation end products.*
Cardiovascular Support: In addition to supporting healthy glucose metabolism, the antioxidant properties of alpha lipoic acid also promote healthy vascular and blood vessel function.*
<b
Pure Encapsulations alpha lipoic acid is synthetically produced and has a minimum purity of 99%. Vitamin C (ascorbyl palmitate) is derived from corn dextrose fermentation. Hypo-allergenic plant fiber is derived from pine cellulose.
Recommendations
Pure Encapsulations recommends 100–1200 mg per day, in divided doses, with meals.
Are There Any Potential Side Effects Or Precautions?
If pregnant or lactating, consult your physician before taking this product. Alpha lipoic acid may cause gastrointestinal discomfort in some individuals and should always be taken with meals. In rare cases, alpha lipoic acid may also cause skin rash in sensitive individuals.
Are There Any Potential Drug Interactions?
At this time, there are no known adverse reactions when taken in conjunction with medications.