what experts are saying about ProLon
"The ProLon plan is well organized, easy to follow, and well balanced throughout the day. It's been more than three weeks since we've done it and we still feel the effect in terms of reduced appetite and stronger self-control. And we both kept the weight off so far and plan a second cycle soon.
As a result of my positive personal experience, I've recommended ProLon to almost 20 patients – including a few pre-diabetics or diabetics – over the last three weeks. Everyone who has completed the 5-day regimen has lost weight and it was a positive experience for all.
I plan to use ProLon to help patients kick start and adopt a healthier lifestyle.
"As an integrative physician, I am faced each day with patients hoping to feel better, have more energy, and lower their risk of chronic disease. The implementation of ProLon into my medical practice has been a wonderful addition to the therapeutic options I can offer. The fact that it utilizes the body's natural healing pathways to support health, has resulted in my patients enthusiastically embracing this unique program.
I highly recommend that every medical practice incorporate ProLon … and witness for themselves the many benefits it provides to patients."
What Is ProLon®?
ProLon® is a 5-day dietary program that nourishes your body while promoting regenerative and rejuvenating changes, including supporting healthy levels of a wide range of physiological markers that contribute to aging, such as cholesterol, inflammation, and fasting glucose.
The ProLon Fasting Mimicking Diet® mitigates the burden and danger of water-only fasting, fasting, by providing a tasty and convenient, safe dietary program that does not require ongoing lifestyle changes, such as long-term dieting.
What's In The ProLon Box?
Is ProLon For Me?
Is intended for use by healthy individuals who want to enhance their health and wellbeing, by overweight or obese individuals who want to proactively manage their weight in an easy and healthy way, and by people who have well-known markers for chronic and unhealthy conditions (after consultation with their doctor). ProLon has been shown to help maintain healthy levels of biomarkers for aging such as glucose, cholesterol, blood pressure while reducing abdominal fat and waist circumference.
Does ProLon Taste Good?
This program was specifically designed knowing people had to be able to stick with it for the full 5-days which meant it had to taste good and be filling.
ProLon FMD works because:
Designed by professional Italian chefs
Uses the Fasting Mimicking Diet technology
Enjoyable taste, texture, and leaves you feeling satisfied
Get the full benefits of a long fast without giving up food, going too hungry, or quitting early with ProLon.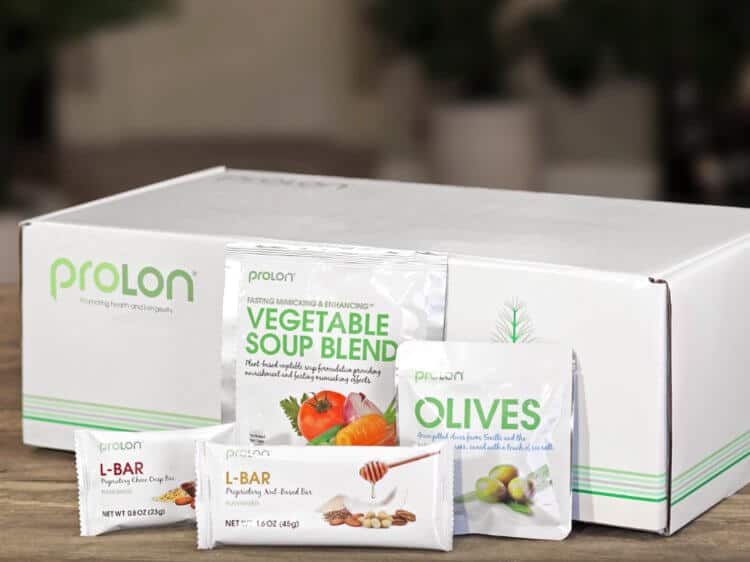 How to Take ProLon®
Consume the ProLon® meal plan for 5 consecutive days.
Do not consume any other food and preferably no additional liquid other than water. Your doctor can approve exceptions.
Resume your normal diet for the rest of the month, making sure to undergo the one day transition diet at the end of the 5 days.
Instructions included in each ProLon® carton.
Participants in the clinical trials consumed ProLon once a month for 3 consecutive months.
How Often Should You Take The 5-Day ProLon® Diet?
Depending on your body weight, baseline markers and health measurements, and after the evaluation and recommendation of your health care provider:
You can use ProLon 3-12 times a year depending on your condition. Healthy individuals may benefit from using Prolon as little as 1-4 times per year.
If you think that ProLon® may be right for you, but you have existing health conditions, contact your health care provider who can recommend and authorize the use of ProLon®; or contact us and we will provide you with access to a health care provider to determine if ProLon is right for you.
Is ProLon® Right For You?
ProLon® is a low-calorie diet. Do not start if:
You are allergic to nuts, soy, oats, sesame, or celery/celeriac (ProLon®contains these)
You are pregnant or breastfeeding
You have dietary restrictions or a fever, cough, diarrhea, or signs of an active infection
If you are underweight per the chart below, or have experienced protein deficiency or are malnourished:
You have an active infection or are at risk of repetitive infection
4'11"-5'2" and under 100 pounds
5'3"-5'4" and under 105 pounds
5'5"-5'7" and under 115 pounds
5'8"-5'10" and under 125 pounds
5'11"-6'0" and under 135 pounds
6'1"-6'4" and under 150 pounds
Important information for those with diagnosed medical conditions or age restrictions:
Do not use the ProLon® Fasting Mimicking Diet™ without a doctor's supervision if you have a diagnosed medical condition or are under 18 or over 70. Diagnosed medical condition especially includes diabetes (types 1 or 2), cardiovascular disease, cancer, kidney disease, liver disease, or any history of fainting (syncope).
Since ProLon is a low-calorie diet, please avoid the following during the 5-days of the program:
Any strenuous exercising or activities that may consume a high level of calories.
Extreme temperature environments like hot tubs and saunas, or driving long distances under strong sun or heat exposure.
Since ProLon is a food based program, please stop the product should you experience any symptom of an allergic reaction such as a rash, change in voice, swelling or fever.
If you feel light headed or faint, you should eat something or drink juice or consume a beverage with sugar. If your symptoms do not subside, please contact your physician or if you feel this is a life threatening emergency, call 911.
As a company dedicated to your health, we offer a complimentary consultation with a nurse practitioner or registered dietician. After purchasing ProLon, you will receive the instructions to schedule this call. We strongly advise scheduling your call prior to starting your ProLon fast.
ProLon is not intended to diagnose, treat, cure or prevent any diseases and has not been evaluated by the FDA.