Red Meat Lovers: Keep an Eye on Your Intake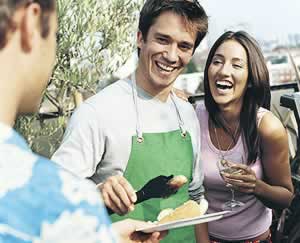 Too much processed and unprocessed red meat may harm health
What we eat is central to our overall health, and it's important to further clarify exactly which dietary components are most important for lowering, or raising, our risk for chronic diseases. Results of an observational study call for a careful look at the impact of red meat in relation to risk of dying from
heart disease
and
cancer
.
Measuring meat's impact
To study connections between red meat and deaths related to heart disease and cancer, researchers collected diet and lifestyle information from 121,342 adult men and women every four years beginning in 1980 and continuing through 2006.
Other factors that can affect a person's heart disease and cancer risk were assessed and accounted for, including:
age, weight, alcohol use, physical activity, smoking, race
family history of diabetes, heart attack, or cancer
personal history of diabetes, high blood pressure, or high cholesterol
intakes of calories, whole grains, fruits, and vegetables, and
in women, menopausal status and hormone use.
After analyzing all of the data collected over a quarter century, the researchers found the following:
Each additional daily serving of unprocessed red meat was linked with 13% increased risk of death overall, 18% increased risk of heart disease-related death, and 10% increased risk of cancer-related death.
Each additional daily serving of processed red meat (bacon, hot dogs, sausage, salami, and bologna) was linked with 20% increased risk of death overall, 21% increased risk of heart disease-related death, and 16% increased risk of cancer-related death.
Substituting one serving per day of another food, such as fish, poultry, nuts, legumes, low-fat dairy, and whole grains for total red meat, lowered the risk of death due to heart disease and cancer by 7 to 19%,.
Consuming less than half a serving of total red meat—about 1.5 ounces—per day, would prevent 9.3% of deaths in men and 7.6% of deaths in women during further follow-up.
Small steps to better health
This study is observational and cannot prove cause and effect. Still, it agrees with previous research suggesting too much processed and unprocessed red meat may harm health, and it may improve your health to eat these foods only occasionally, rather than every day. Our tips on total red meat consumption and other health habits will help you begin your journey to better health:
Be selective. The study also found people eating the most total red meat are less physically active and more likely to smoke, use alcohol, and be heavier. If tackling all of these issues at once is daunting, pick one and make a commitment to it. For example, if you don't get much physical activity, commit to walking for 15 minutes each day before or after work, or on your lunch break. Gradually increase this to 30 minutes.
Fill up first. Eating more total red meat was associated with eating more calories and fewer whole grains, vegetables, and fruit. Tip your dietary balance in a favorable direction by noshing on fresh fruit or chopped raw vegetables as you're fixing dinner. This adds healthy food and fills you up so you can eat a smaller portion of meat during the meal.
Try ethnic. Ethnic foods, such as Asian, Mexican, Indian, or Caribbean, lend themselves well to meatless meals. Think of a brightly colored vegetable stir fry, bean and rice burritos, lentils with brown rice, or curried vegetable stews.
(Arch Intern Med. Published online March 12, 2012. doi:10.1001/archinternmed.2011.2287)
Suzanne Dixon, MPH, MS, RD, an author, speaker, and internationally recognized expert in chronic disease prevention, epidemiology, and nutrition, has taught medical, nursing, public health, and alternative medicine coursework. She has delivered over 150 invited lectures to health professionals and consumers and is the creator of a nutrition website acclaimed by the New York Times and Time magazine. Suzanne received her training in epidemiology and nutrition at the University of Michigan, School of Public Health at Ann Arbor.
Copyright © 2020 TraceGains, Inc. All rights reserved.